Easy Rider Harley For Sale
Sep 26, 2014
Loading...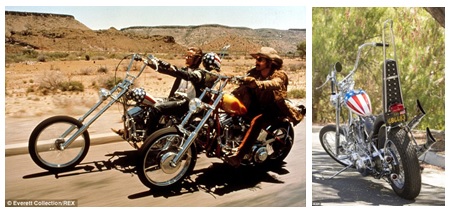 Easy Rider Harley For Sale
Could it be the most iconic motorcycle of all time? The Harley Davidson ridden by Peter Fonda in the hit 1969 film Easy Rider must be right up there as one of the most recognisable movie vehicles and that's why it's expected to fetch over US$1 million when it goes up for auction next month in California.
The Captain America Harley with its stars and stripes adorned gas tank was one of four used in the filming of Easy Rider but is the only survivor – it was used in the famous final scene and clearly needed a rebuild afterwards. The other three bikes were believed to have been stolen and chopped up for parts (it's rumoured that the stars from the stolen gas tanks were made into badges for the Hells Angels). The chopper may have the turning circle of the Queen Mary and the hardtail suspension may leave you with a long term back injury if you actually did ride it across America but it is one of the most recognisable symbols of late 60s counter culture.
The movie's tagline read "One man went looking for America. And couldn't find it anywhere" and it featured hippies, drugs, sex, rednecks, Mardi Gras, bad trips and a great soundtrack including the feature song 'Born to be wild' by Steppenwolf. And I doubt any movie did more for the legend of Harley Davidson as a machine of the rebel than this one.
A million bucks seems like a lot for a motorcycle but if this were a car as famous as this you can bet it would be ten times more expensive. It could be a bargain and a great investment.
Leave a Comment
Please login to comment