To understand the Consumer Guarantees Act in relation to purchasing a vehicle at Turners, please read the Q&A below. If you have further questions, please do not hesitate to get in touch with us.

Learn more about how the CGA applies to used vehicles bought at Turners

Does CGA apply to the car I'm interested in?
To find out whether or not a car you're interested in is covered under the Act, sellers must make it clear if they are in trade when selling through Turners. This lets you know if you're protected under the Consumer Guarantees Act as this legislation provides guarantees for when you purchase from a person in trade. Don't forget, all cars purchased through Buy Now are covered by the CGA.


To find out if the car you're interested in buying is covered by the CGA, look for the icon under 'Important Information' within a vehicle listing page.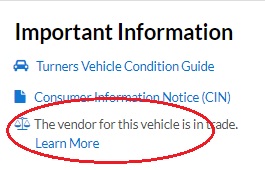 You can search for cars in trade through the search panel as below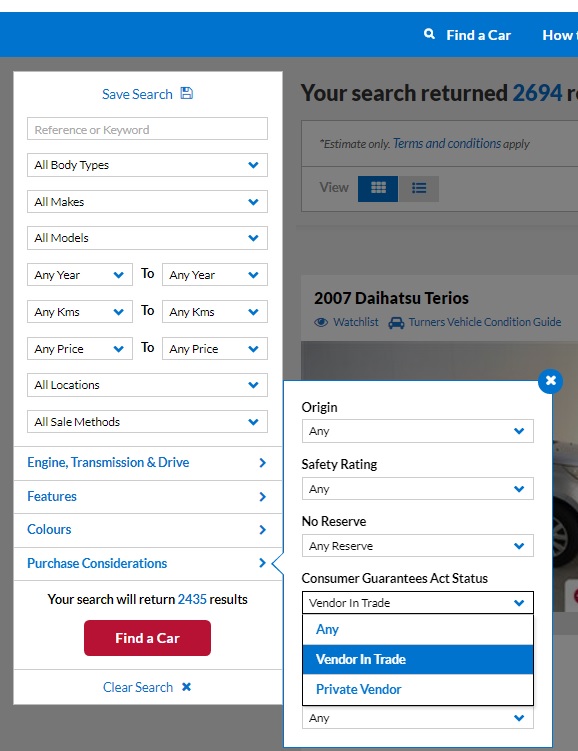 Please note
It's important to note that the CGA does not cover private sales and vehicles and goods usually bought for commercial use. However, you will still see the "The vendor for this vehicle is in trade" icon on the listing page if the vendor is in trade. Previously, auction sales were sold on an 'as is, where is' basis.

Information for sellers
As a seller, you need to work out whether you're in trade, not in trade or a mixture of the two. If you are in trade, the law requires you to disclose this information to buyers when selling through Turners.

Find out more about your CGA obligations here.

Information for buyers
If you're buying a car through Turners, great news! All you have to do is keep an eye out for the in trade status of the car you're interested in to see if you're protected by the Consumer Guarantees Act. It's easy to know if a car you're interested in is from a seller in trade. Search for "Vendor In Trade" in the search panel to see these cars or look on the listing under "Important Information"on the Turners website or the in trade tag through Trade Me.
Currently, when you buy a car at auction through Turners, we charge a Buyers Fee. The Buyers Fee contributes toward the cost of setting up the auction, displaying the goods and it also guarantees that the car is not stolen and that there is no money owing. Plus we do the change of ownership for you as part of the service.
Buyer Frequently Asked Questions