Stolen E-Type Recovered after 46 Years
Oct 10, 2014
Loading...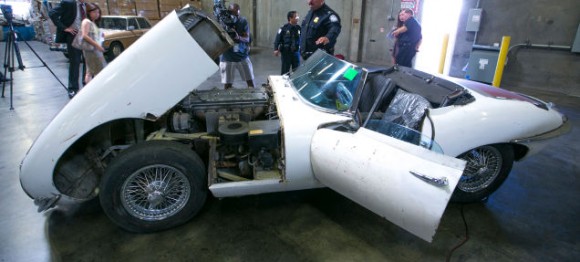 Stolen E-Type Recovered after 46 Years
Ivan Schneider may have owned his 1967 Jaguar E-Type for 47 years but he only had it in his possession for the first 6 months. He purchased the gorgeous Jag in 1967 for US $5000 and six months later, in 1968, it was stolen from outside his apartment. He was only 36 years old at the time and now at age 82 he is being reunited with his beloved Jaguar.
The E-Type was discovered during a routine check against the stolen vehicle data base along with three other stolen cars on a container ship that had set sail from Long Beach, California en route to the Netherlands. The police found the original 1968 New York stolen vehicle report and were able to track down Schneider, now living in Florida. Needless to say he didn't believe it at first. After all, who expects to get a stolen car returned after a year never mind 46. He initially thought it was a prank but the retired attorney is a happy man now. He has owned some very nice cars since losing the Jag but has always held a candle for the prettiest of them all, the one he only had for 6 months.
The Jaguar convertible has aged in much the same way as its owner has over the years they were apart but Schneider plans to have the car fully restored to its former glory and has vowed to be more careful where he parks it in future.
Leave a Comment
Please login to comment