One door shuts and another opens in the Aussie V8s
Jan 11, 2013
Loading...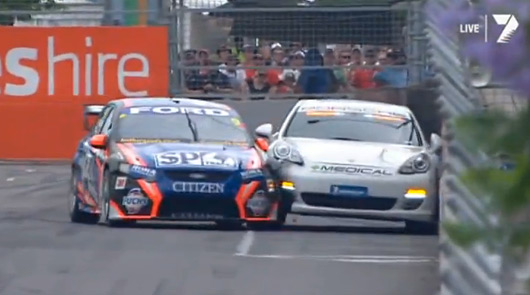 Fabian Coulthard is New Zealand's only driver with a confirmed ride in next year's V8 Supercars championship. Shane Van Gisbergen (SVG) walked away from the championship and his Gold Coast home to return to New Zealand and recharge his batteries, while vetran racer Greg Murphy is yet to secure a ride next season.
At this stage it seems Van Gisbergen just needs some time out of the sport and with any luck we'll see him back in the seat of a top team in the not too distant future.
SVG is only 23 years old and started racing with the big boys in the V8s at only 18 so maybe it's not that surprising that he needs a break. Motorsport at this level is more than just turning up to race; it's about the media, the testing, the results, the travel… With Stone Brothers Racing (SBR) leaving Ford to run with Mercedes in next year's championship there was not going to be any rest for Shane either as the new car has to be built and tested in time for the season opener in February.
Unfortunately for Shane the final round of the season, and possibly his V8 career, didn't go so well, breaking his steering and hitting the medical car in race 1 and suffering clutch dramas at the start of race 2. Here's hoping he makes a return in 2014.
Meanwhile a new chapter began for 19 year old Kiwi Scott McLaughlin. He won the V8 Development series for SBR as well as the NZ Supertourers and was thrown the keys to Alex Premat's Fujitsu Holden for the final race of the V8 Supercar season. The Frenchman succumbed to heat exhaustion in race 1 and was not fit to start race 2. Scott started from pit lane and finished 17th which is a good result after a late call up, no practice on a difficult street circuit in stiflingly hot temperatures.
Scott is the youngest driver to ever drive a V8 Supercar at just 16 and came 6th in this year's Bathurst 1000. Somehow I doubt Fabian Coulthard will be New Zealand's only V8 Supercars driver next season.
Leave a Comment
Please login to comment