Schoolboy fantasy – 27th July, 2017
Jul 27, 2017
Loading...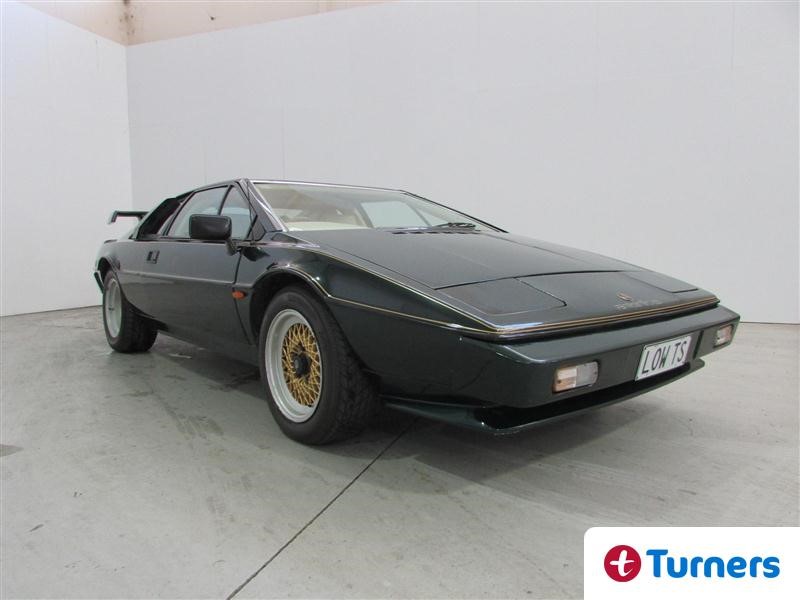 The Turners National Classic Car auction starting tomorrow is shaping up well. As usual it's an eclectic mix of styles, ages and origins and as usual there is the unusual. Take this 1982 Lotus Esprit S3 – an aggressive wedge of a car with a mid-mounted engine and a James Bond connection, as well as a Kiwi connection.
If you're too young to know I can assure you that in the 70s and 80s, school age boys didn't spend their time drawing pictures of Impreza WRXs or Honda Integras on their exercise books during biology class. No, they drew cars like the Lotus Esprit. It was a car rarely seen in the flesh. A car you wished your dad would buy but never did. A car so far removed from the everyday hum drum of your mum's Vauxhall Viva or your dad's Toyota Corona that you just had to draw it – preferably with flames spewing from the exhaust.
The Lotus Esprit first appeared as a concept car in 1972. It must've looked crazy at the time. It looks crazy now. But unlike so many crazy concept cars the Esprit went into production in 1976 and continued to be built until 2005. So what was the Kiwi connection? Well if it hadn't been for Lotus persevering with model names starting with the letter 'E' then the Esprit would've been known as the 'Kiwi'. And I think, if we're honest, Esprit works better.
Then there's the Bond connection. In "The Spy Who Loved Me" Bond is chased on land, by air and underwater in his multipurpose Esprit submarine. That very car is now owned by Tesla founder, Eion Musk, who plans to convert it, unsurprisingly, to electric power. He also plans to give it real submarine ability, something it originally only possessed through the magic of Hollywood.
This 1982 S3 example has the normally aspirated 2.2l, four cylinder engine and five speed box. So while the low slung wedge had a reputation for true supercar handling it's fair to say it lacked supercar power. It's no slug though. The 160hp engine will get you to 100kph in under 7 seconds and will keep going until it hits 220kph.
This true icon of schoolboy fantasy is located at Turners Whangarei. It's time to live the dream of your youth. More details here.
Leave a Comment
Please login to comment