The Greatest All Black and White Corona in the World
Sep 7, 2015
Loading...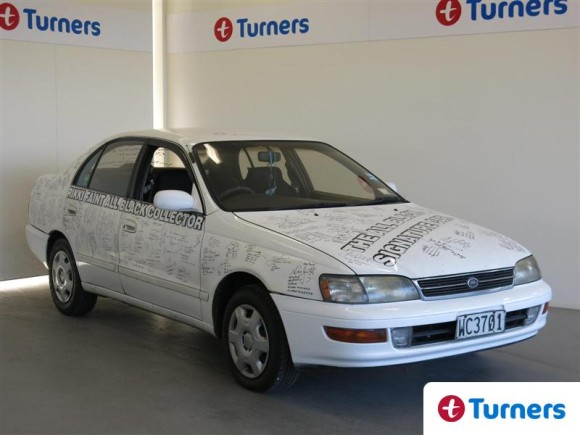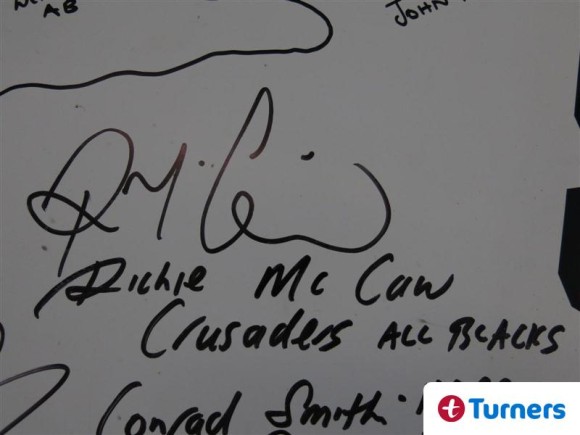 The Greatest All Black and White Corona in the World
It's the most important white 1992 Corona in the world and not just because it carries the autographs of over 200 past and present All Blacks. The proceeds from the sale of this well travelled Toyota will go towards helping children with cancer. So if you buy this car you'll be doing something good, getting some valuable signatures and scoring some reliable transportation. It's a win, win, win.
The owners of this car are selling it and donating all the proceeds to the Child Cancer Foundation. It's an incredibly generous gesture that follows another incredibly generous gesture by the car's previous owner (read about it here). Just consider the work and expense involved in getting over 200 All Black greats to add their Hancocks to the Toyota's gleaming white paint work. It's not like standing outside a training session with your autograph book. You have to get the car in front of every single All Black contributor. And the All Blacks who signed the car should be congratulated, too. It may only be a signature but these guys must spend half their lives signing autographs, although probably not many as worthy as the one they've added to this cause.
So what's it worth? You are buying three separate things here so before you start trying to work out the value of a 1992 Toyota Corona with nearly 400,000kms under its belt, maybe consider the car a bonus; something thrown in with the autograph collection. So what's a collection of All Black signatures worth? Well right now quite a bit I'd imagine and if they lift the Webb Ellis trophy on October 31st then possibly quite a bit more. But most importantly what price do you put on helping children with cancer? Well the answer is: as much as you can afford.
The auction for this humble but heroic Corona is running right now and closes next Monday (14th Sept) with 100% of the proceeds going to the Child Cancer foundation. It is located at Turners Napier but the good people at BTL Vehicle Transport will transport the vehicle to any of these Turners Branches (Palmerston North, Wellington, Hamilton, North Shore or Auckland) at no charge.
Not all investments should be measured by their financial returns. Sometimes an investment into the lives of others is as blue-chip as they get. More info here.
Leave a Comment
Please login to comment