Loading...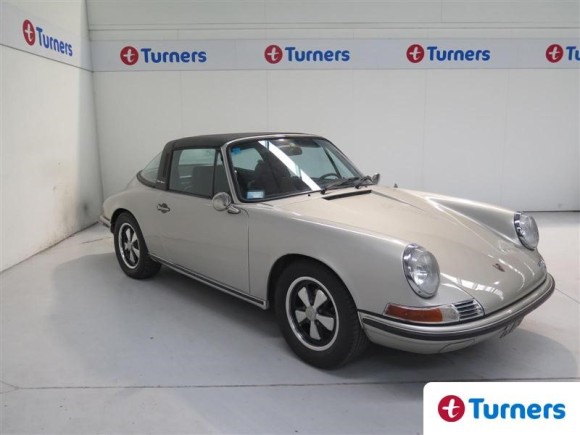 Pretty Porka
The Classic auction at Turners Christchurch is this Saturday and we've been featuring some of the cars up for grabs over the last couple of weeks. There are some desirable oldies looking for new owners and if I had to pick a favourite it would be this 1971 Porsche 911T Targa. The 911 has never been prettier than it was in the early 70s.
The 911 was born in 1963 and they are a bit like the sports car version of the Land Rover in that a new one still strongly resembles an old one. Over the decades the 911 has got faster, safer and beefier but it has still maintained the look and the rear mounted boxer engine. These days they look fast and expensive with an aggressive stance but for sheer simple beauty nothing beats an early 911 with those iconic Fuchs wheels.
The ultimate 70s 911 is the Carrera RS but as that model was recently identified as the best classic car investment of the last 10 years (a staggering 669% increase in a decade) you'd have to shell out upwards of a million dollars – if you could find one. So those with (slightly) shallower pockets are best setting their sights on one of the more modest models. And that's fine as you still get the looks and the distinctive exhaust note.
Which brings us to this very original 911T Targa. The 911T was the base model with the lowest power of 123hp from its 2.2l 6 cylinder boxer engine but considered by many as the easiest to live with around town. This one has recently had an engine rebuild and the 5 speed manual gearbox was overhauled 5000 miles ago. Being the Targa it has the removable roof panel to let the wind blow through your hair. The one possible downside with this car is the placement of the steering wheel – it's on the wrong side – but with a booming market for these in America and Europe and a relatively weak dollar it may end up being exported anyway. It's been in NZ since 1986 and is a really nice unrestored example of one of the greatest cars in history.
You can buy a faster Porsche but you won't buy a prettier one. The auction is this Saturday at Turners Christchurch.
Leave a Comment
Please login to comment