Retro Hot Hatches Under the Hammer
Nov 2, 2015
Loading...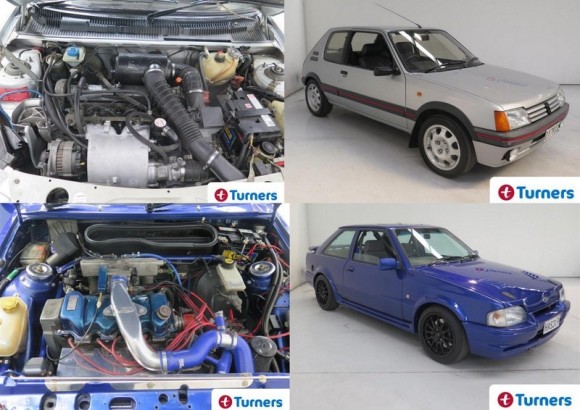 Retro Hot Hatches Under the Hammer
The eighties was a decade of some questionable music, haircuts, clothes and some of the cars were horrible, too. But there were exceptions (except for haircuts) and the rise of the hot hatch was one of those. The Peugeot 205 GTI was one of the very best and the Ford Escort RS Turbo was mental. Turners have examples of both up for auction this Saturday.
First up – the Pug. The 205 GTI hit the streets in 1984 with the 1.6l version. At the time the VW Golf GTi was the benchmark hot hatch and the pioneer but the 205 GTI is considered by many as the best ever. These days you can buy quicker cars with more technology and safety but the original 205 is still used as a benchmark today. This one is the later 1.9l version with leather interior, four wheel disc brakes and 15" alloys. This is a NZ new car with the manual 5 speed box (many Japanese imports are automatic and therefore pointless) and appears to be in very good shape. Being a sporty hatch, many of these have been driven into the ground (or lampposts) by over enthusiastic young drivers wrestling with more power than their Mum's Honda City they learned to drive in. So finding one in this sort of condition is very hard. Sometimes you see one and get excited only to discover the dreaded T-bar auto shifter stinking up the show. At an auction estimate of $4000 – $5000 this hot hatch is going to be seriously hot property.
Then there's the 1989 Ford Escort RS Turbo. Any Ford with an RS badge is going to be pretty quick and the RS Turbo certainly was in its day. It has a turbo charged 1.6l engine producing 132hp and in 1989 it was rapid. But being 2015 that sort of power is not going to grab the headlines so this one has had a bit done to it. It has had performance upgrades in nearly every department and now the owner is talking about 230hp. It is fitted with a bolt in roll cage for racing but is fully road legal. This car appears to be a well sorted retro missile with over $40,000 in receipts for the work done. The guide price looks pretty tempting at $12000 – $14000. These were only sold in England in small numbers so you're buying some exclusivity here, too.
Both of these iconic eighties performance hatchbacks are being sold this Saturday at Turners Christchurch as part of their classic car auction.
Leave a Comment
Please login to comment