The Last (decent) Samurai?
Nov 12, 2015
Loading...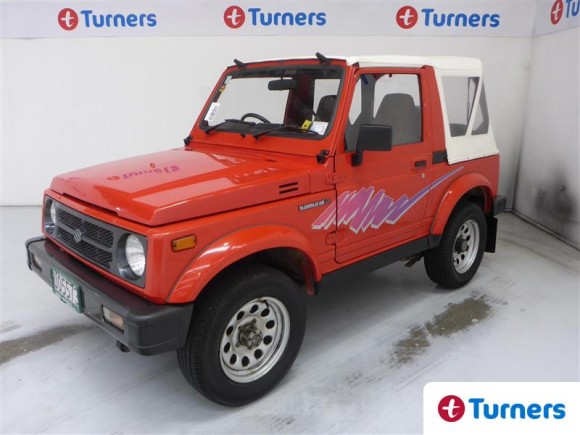 The Last (decent) Samurai?
As an off-roader it has almost cult like status. On the road its status is more, shall we say, infamous. One thing's for sure though, finding an old Suzuki Samurai in this condition is becoming very difficult. And with an auction estimate of just $2500 – $3500 there won't be any shortage of takers.
The Samurai's reputation for off road performance is pretty impressive. Being light, narrow and nimble makes it perfect for a bit of weekend mud-plugging and there is a passionate following for them all over the world. However, the attributes that make it so good off-road have not served it quite so well on the sealed stuff. In 1988 a scathing American consumer report slammed it for its knack of rolling over when turning sharply at speed. Suzuki sued and the case was settled out of court but the damage was done and the Samurai eventually disappeared from American showrooms. It should be noted that at just 63hp the chances of having to turn at speed seem limited but it did appear to prompt Suzuki to soberly caution: "Note that the Samurai has a high ground clearance and narrow track for off-road driving capability. It will not corner at the same speed as a conventional car. So avoid sharp turns and abrupt manoeuvres, and always wear your seatbelt". This in the same brochure that almost drunkenly asked "Would you like to go to the beach driving an irresistible bikini magnet?"
This particular 1996 example has covered just 99,000kms and it doesn't look like many, if any, of those kilometres were racked up off road. The features list on a Samurai makes for light reading and this one is down as having one – alloy wheels. I'm going to say those wheels are steel so that leaves nothing, unless you count the funky 80s style pink graphics on the doors. That means there's less to go wrong. And then there's the convertible top that on a sunny day will make the lack of power steering, electric windows, air conditioning and a stereo seem utterly insignificant.
The auction for this 4×4 super mini is on Wednesday (18th Nov) at Turners Penrose. It may not be the last Samurai (they are still being sold here under the sexy moniker of "Suzuki Farm Worker") but it might be the last opportunity to buy a nice one at a very tempting price.
Leave a Comment
Please login to comment