Muscle Car Stash for Auction
Mar 6, 2015
Loading...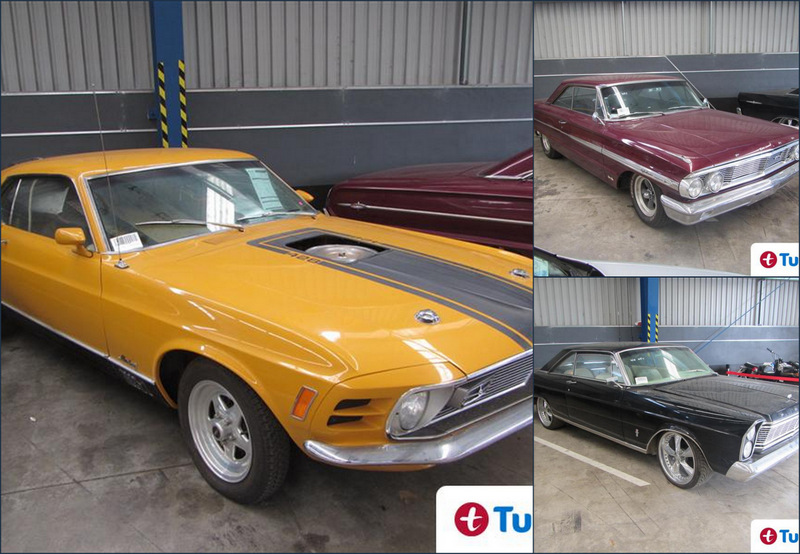 Muscle Car Stash for Auction
These three American Ford classics are being auctioned on behalf of the Crown so not much is known of their history. They may be unoriginal and require work to get them on the road but it'll obviously be worth it and who knows what goodies have been fitted to them.
First up is this 1970 Mach 1 Mustang. It was imported to NZ in 2012 and registered. It appears to have been set up for the drag strip with slick rear tyres. It has a 428ci V8 which runs but doesn't idle. The interior has been removed but comes with the car as do the original wheels. It looks like an easy project for the right person.
Next up is a 1964 Ford Galaxy XL500. It looks like somebody was in the process of refurbishing this car. The leather upholstery looks new but there's a bit of finishing still to take care of. The carb is missing so it doesn't run and there is no key. To top it off the rego is dormant so will need to be recompiled to get it road legal. But hey, it's a cool old car that will be a real head turner when it's done.
Finally there's another Ford Galaxy. This one's a 65 and has been stored for a few years. It has been registered here but is now dormant. There is no key and it hasn't been started so who knows what work is needed mechanically. It's a left hooker and does have a permit.
So there you have it, three winter projects for lovers of big American Fords. The black Galaxy is located at Turners North Shore and is up for auction this coming Tuesday (10/03)as part of the damaged vehicle auction where there is also a 66 Fairlane body and V8 engine and a 77 Ranchero being sold.
The other Galaxy and the Mustang are being auctioned on the same day (Tues 10/03) at Turners North Shore. If the auction for the Chev Bel Air that we featured this week is anything to go by interest will be high. Go and check them out now at Turners North Shore
Leave a Comment
Please login to comment