Margaret Thatcher's Battle Bus For Sale
Apr 20, 2015
Loading...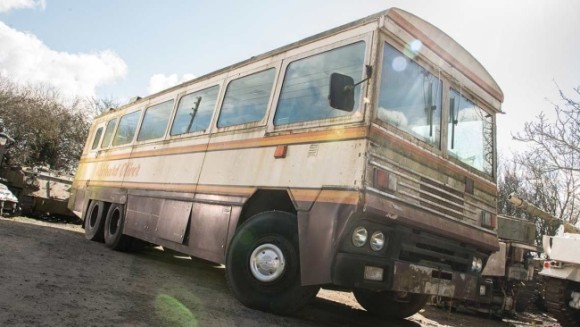 Margaret Thatcher's Battle Bus For Sale
She was known as the Iron Lady but it turns out Margaret Thatcher wasn't bomb proof, and the late Conservative British Prime Minister certainly brought out many folks' inner bomb making desires. So in 1983 they made her a bomb proof bus and now it's for sale in England.
The bus was specifically built for Thatcher's Northern Ireland tour after she narrowly escaped the IRA bombing of a Brighton Hotel where she had been staying for a conference. The bus was deliberately made to look like an old school bus – even the name on the side, "Richard Oliver", was a fictitious bus company name created by MI5 – so it would blend in with its surroundings. What makes it different to a normal commuter bus is the 50mm thick bullet-proof windows and the 60mm macrolite floor designed to withstand a land mine. It is powered by a 12 litre, supercharged V12 Rolls Royce engine and has just 21,000kms on the clock. It also has an air filtration system on the roof to protect its occupants from chemical and nuclear attacks. All this apparently cost a fortune when it was built and nobody ever even tried to blow it up, although there are a few bullet holes.
It may not look like much, and could do with a clean, but it all still works and is an interesting piece of British political and military history. Strangely, it's hard to imagine Thatcher riding around in such a plain bus as it was something the working class did. I'm sure she even considered trying to blow it up herself on more than one occasion.
The owner is selling the bus for NZD$50,000 and he'd like it to stay in England. Of course, money talks if you're interested. More details here.
Leave a Comment
Please login to comment