Want a Harley but Prefer Four Wheels?
Dec 7, 2015
Loading...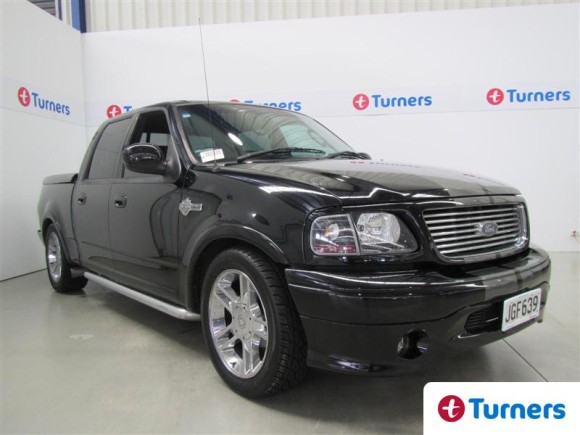 Want a Harley but Prefer Four Wheels?
Summer is a great time to own a Harley Davidson if you don't mind sweaty leathers, helmet hair, near death experiences with cars, lack of weather protection, lack of storage… Actually, when you really think about it, maybe the best Harley to own this Summer is this Ford F150 Harley Davidson edition.
Harley Davidson first teamed up with Ford in 2000 with the F150 2 door Supercab fitted with a 5.4l V8. By 2002 the truck had grown to a full four door body and added a Supercharger giving it 340hp. The suspension was lowered 1 inch, 20" chrome wheels added as well as various other limited edition touches. It'll do 0-100kph in a touch over 6 seconds, which for a vehicle the size of a planet is pretty impressive. Speaking of planets, this truck does not care about the planet or your fuel budget, so be warned. Exactly why Harley Davidson hooked up Ford to build this truck is unclear but apparently it sports more Harley logos that Ford logos. Truck Trend magazine described the truck as "a way to get into Harley ownership without pesky altercations with law enforcement and visits to the tattoo parlour".
This particular 2002 model F150 was brought to NZ from the States in 2005 and converted to right hand drive by Walton Special Vehicles. It has covered 114,000 miles and looks to be in good shape. In America this truck would just blend in with all the other trucks on the road – after all, Ford's F150 has been the biggest selling car in America for each of the last 32 years – but in NZ they are quite rare and they dwarf nearly every other car on the road. It's 2 feet longer than the longest Toyota Hilux as well as being significantly taller and wider.
This four wheel Harley/Ford is available right now at Turners Hamilton for $49950 or if not sold prior will go to auction on the 17th December.
Leave a Comment
Please login to comment