Ken Block's Pumped up Pony
Nov 7, 2014
Loading...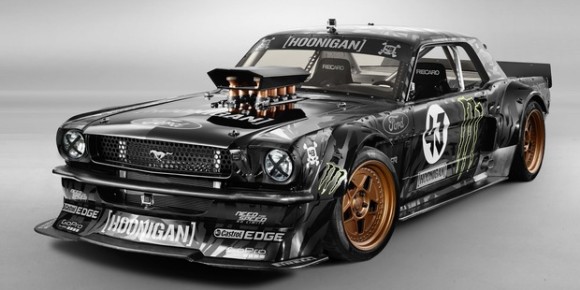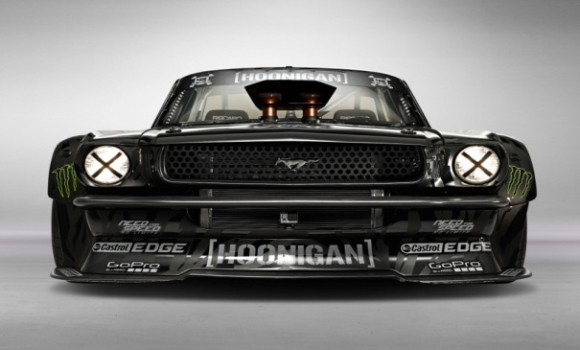 Ken Block's Pumped up Pony
Ken Block's Gymkhana videos are pretty legendary. The owner of DC Shoes sure knows how to drive and the accompanying videos are shot with a big budget and look spectacular. But when you've done six high octane gymkhana videos what more can you do to spice things up? Well a muscle bound, 850hp, all wheel drive 65 Mustang will work.
Block's latest gymkhana ride is this incredible custom built Mustang. If Julian Savea was a car with a steroid addiction, he'd be this car. Built by ASD Motorsports and nicknamed "hoonicorn" there's not much left of the original 1965 notchback. Everything from the tubular chassis, carbon fibre body panels, custom suspension, 18" wheels, the all wheel drive system (that's all four wheels smoking at once) and that huge 410ci Ford V8 were not on the options list at your local Ford dealer in 1965. It's possible the headlights are original though.
While all Block's other gymkhana cars have been impressive there's nothing like the soundtrack of a screaming V8 to raise the excitement levels as you can hear in this teaser video of gymkhana 7 being filmed. It's like the sound of Black Sabbath, Iron Maiden and Metallica all playing at the same time in a small room with their amps turned to 11! We can't wait to see the finished video.
HOONICORN RTR SPECIFICATIONS:
MOTOR: Roush Yates 410 cubic inch Ford V8, 845 hp/720 lb.ft with ITBs
TRANSMISSION: 6-speed Sadev SC90-24 all-wheel drive transmission with a hydraulic handbrake system
SUSPENSION: Custom ASD Motorsports-designed geometry and components
BODY: 1965 widebody Ford Mustang designed by RTR, Ken Block and Hoonigan, ASD Motorsports full tubular chassis, ASD Motorsports custom roll-cage, door bars and front/rear suspension mounts, RTR carbon fiber body panels
WHEELS: fifteen52 three-piece R40, 18"x10.5"
TYRES: Pirelli Trofeo R, 295/30/18, custom Ken Block compound
Leave a Comment
Please login to comment