The Real James Bond Aston Martin For Sale
May 22, 2014
Loading...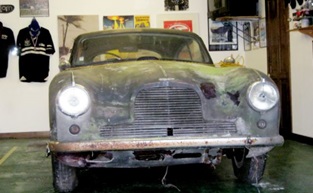 The Real James Bond Aston Martin For Sale
How did Ian Fleming come up with the idea to use an Aston Martin as James Bond's car? Well these days it would be because Aston Martin was prepared to pay loads of money for the privilege. But back at the beginning it seems the inspiration came from this very car which is to be auctioned in July in England.
The 1954 DB2/4 was sitting in a shed in a poor state when the current owner bought it last year. Since then he and his son have completed a full restoration. But it was during the restoration that it's rather cool story was discovered. When the car was stripped down a number of very interesting gadgets were discovered, remarkably similar gadgets to those found in the Goldfinger DB3. These included steel reinforced bumpers, an anti-interference system, a connection in the driver's seat for a two-way radio or homing system and hidden lockers. There was also a device the accurately predicted time and distance based on preset average speeds – an early trip computer. It was also at this time that the links to Ian Fleming and 007 were revealed.
It turns out that the car was originally owned by Phillip Cunliffe-Lister (son of prominent WWII spy master Lord Swinton) who was a frequent visitor to Fleming's next door neighbour. It's safe to assume that Fleming became quite familiar with the gadget filled Aston.
The car is being auctioned at Blenheim Palace on July 12th. You better start saving now as it's expected to fetch around $500,000.
Leave a Comment
Please login to comment