Full Frontal Ferrari
May 26, 2014
Loading...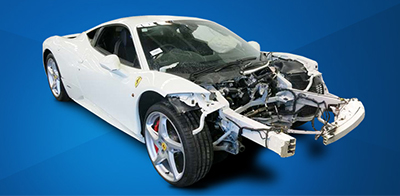 Full Frontal Ferrari
The Ferrari Italia 458 is a very powerful car. In the right hands its 562 horsepower V8 will power it from a standstill to 100kph in less than 3.4 seconds and it'll keep going until it hits 320kph. In the wrong hands it'll hit something hard, resulting in expensive damage and much embarrassment. This $500,000 supercar now needs some expert hands and is being sold with a $1 reserve.
This NZ new 2010 Ferrari got a badly broken nose before it was even registered. As a result it needs a bit of facial reconstruction, but it can be repaired and put back on the road. The 458 needs work in the following areas: cross member, firewall, airbags, driver's door, bonnet, head lights, bumper and chassis rails. Easy peasy. When it's done you will have a car that Top Gear magazine awarded Car of the year and Supercar of the year in 2009.
This car is fitted with some optional extras, too. It has an LED steering wheel, colour coded stitching, rear parking camera, cruise control, sports exhaust and stitched Cavallinos on the headrests. This would've cost at least $20,000 over and above its original price tag.
So what's it worth? Well you can decide as it is being auctioned with a reserve of just $1. The parts can be purchased and all the paperwork is available to register it when it's repaired. It could be the best opportunity to buy an affordable Ferrari you'll ever get.
Leave a Comment
Please login to comment