Extraordinary Power
Mar 25, 2014
Loading...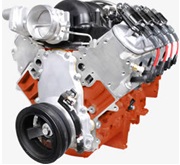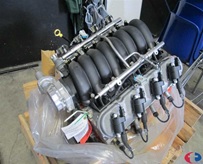 To some it'll look like a lump of metal in a plastic bag, but you should never judge an engine by its rocker covers. This is no ordinary engine; ordinary engines do ordinary things like power ordinary cars to the shops to buy ordinary milk. This extraordinary engine will power an extraordinary car (preferably with a GM badge and not a Barina) to the shops at extraordinary speed to buy the expensive milk in those bottles you can't see through.
What we have here is a GM LS3 based 427 cubic inch, seven litre, V8 engine built byBlueprint Engines in the USA. It is rated at a hefty 625hp and has never been fitted to a car. So it's straight out of the box (or plastic bag) and into your muscle car that's in need of an attitude adjustment. This would normally cost you a not so small fortune but this court seized engine could be a bargain. These engines cost $13,000 plus freight, GST and customs charges to buy new. So let's say $20k at a guess. This one is currently sitting at $7500 in the bidding. All the specs and a video of the same spec engine being run on the bench can be found here
So if you're sick of ordinary and don't care about petrol prices or the planet then don't miss out on this. Getting the milk will be quicker, louder and more fun. The auction is happeningright now and it closes on Monday night. The engine can be inspected at Turners North Shore.
Leave a Comment
Please login to comment