Inflating the Price
Jun 6, 2014
Loading...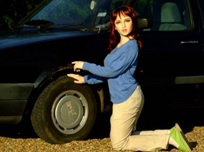 Inflating the Price
Selling an old banger with rust and mechanical issues can be challenging but this eBay seller in England has found a way of getting his 24 year old VW Golf noticed by using an inflatable sex doll.
Draping bikini clad models across the bonnets of cars is a sales technique that goes back decades. But Angus Dean, the owner of this old VW, clearly decided that a conservatively dressed "poseable mannequin" was a better option for his aging hatchback (that and the fact that he didn't know an actual woman willing to do it for free). As it happens the doll (named Sandy) belongs to a friend of the seller who uses it for professional purposes as they are less fuss than a real model. She has already successfully sold Angus's ride-on lawnmower and didn't even ask for a lunch break.
In the photos, Sandy helpfully points out large areas of rust on the knackered Golf and even holds a door open beckoning prospective buyers to check out the worn interior. It seems she's a bit of a natural.
The auction was relisted due to the original buyer backing out of the sale. He thought he was buying an inflatable sex doll and was disappointed to find he'd only bought an old Golf.
Leave a Comment
Please login to comment