Why didn't this take off?
Jul 2, 2014
Loading...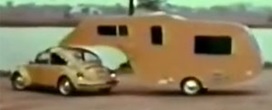 Why didn't this take off?
Information is pretty scarce on this 70s caravan and it doesn't seem to be an idea that took off, but why? It's quite an ingenious idea that hitches the caravan to the roof of the car rather than a towbar.
The result is an incredibly maneuverable car/trailer combo. I'm no expert but I wonder if the roof structure of a VW Beetle is not strong enough? Also, a Beetle is likely to struggle to tow this trailer up anything even close to a hill. Watch the video here.
Leave a Comment
Please login to comment