Volvo turns up the Volume
Feb 14, 2014
Loading...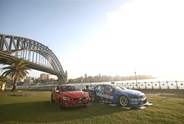 Volvo has unveiled their car for this year's Australian V8 Supercar championship and the S60 certainly looks the part. And to say it sounds the part would be an understatement when you take a listen to this clip of the engine demo. I need a little sit down after that.
But as we know from last year with Mercedes and Nissan entering the fray, converting those looks and sounds into competitive performances is a tricky thing to pull off. In Volvo's favour is the Garry Rogers Motorsport team that have built the chassis and will be running the factory backed campaign. The other ace up their sleeve is last year's rookie of the year driver in Kiwi Scott McLaughlin. Scott is one of the rising stars in the sport and team have been really competitive in recent seasons so there's some justification to be optimistic about their chances of getting to the pointy end of the field. The Volvo S60 gets its first public test this weekend so we'll get some idea how the 650hp V8 will perform, then.
Of course Volvo isn't new to motorsport success in this part of the world. They won the Australian Touring Car Championship in 1986 in a 240T driven by Kiwi Robbie Francevicand also won the Bathurst 1000 in 1998 in an S40 with another Kiwi pilot, Jim Richards. Maybe there's something in this Swedish/Kiwi pairing. Maybe they'll be quick right out of the box.
The first round of the 2014 season kicks off on the 27th of this month at the Adelaide 500. Can't wait.
Leave a Comment
Please login to comment