Holy Corvettes
Feb 21, 2014
Loading...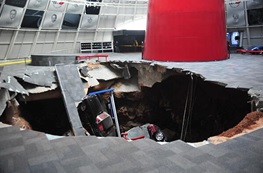 Holy Corvettes
Sinkholes are very newsworthy at the moment. With high rainfall in England causing the phenomenon, people have been losing their cars and houses down deep holes in the ground. And just last week the earth swallowed up eight classic Chevrolet Corvettes at the National Corvette Museum in Kentucky. It seems like bad luck that the hole should appear under the domed section of the museum that contains some very rare and valuable cars, but is it? Could it be the planet reclaiming some of what it's given up to build and run these iconic gas guzzlers?
Well maybe not but it's an interesting thought. Sinkholes are a natural occurrence often caused when rock, like limestone for example, is dissolved by circulating water. In this case it might have something to do with the areas famed underground cave system. It's just something that happens but you don't want it to happen under you or in front of you when you're driving.
The Corvettes eaten by planet earth included a black 1964 Corvette, a white PPG Pace car, a white 1992 one millionth Corvette, a 1993 Ruby red 40th Anniversary Vette and a 2009 white 1.5 millionth Corvette.
Watch it all unfold here and see the aftermath here. And then there are the conspiracy theorists, just for fun.
Leave a Comment
Please login to comment