Bonkers Brazilian Businessman Buries Bentley
Sep 27, 2013
Loading...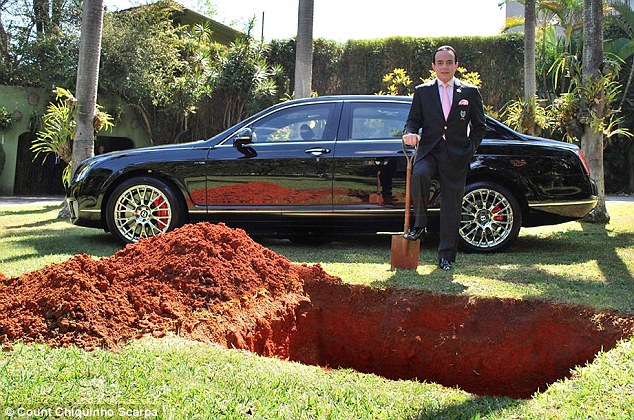 Or did he?
When Brazilian Businessman Chiquinho Scarpa announced via Facebook that he was going to bury his $600,000 Bentley Continental Flying Spur he was hit with a wave of criticism both on Facebook and in the wider media. He said he planned to bury the Bentley so he could drive it in the afterlife, an idea inspired by a TV documentary about the ancient Egyptian Pharaohs who liked to bury all their cool, expensive stuff with them after they died.
Photos were posted on Facebook of a partially dug hole in his garden and an announcement that the Bentley's funeral would take place on the 22nd September. Many Facebook followers seemed to bury their sense of humour and got stuck into Count Scarpa, as he's known, for his absurdly wasteful plan, many telling him he should donate the car to Brazilians in need.
But as it turns out it was all a very clever publicity stunt. On Friday 20th September Scarpa held a press conference with a banner behind him reading "It's absurd to bury something much more valuable than a Bentley: your organs" with the count himself holding a card reading "I am an organ donor. And you?" Yes, it was a stunt to promote organ donation and quite an inspired one at that.
And his answer to whether he buried his car he made this statement: "I have not buried my car, but everyone thought it absurd when I said I'd do it. It is absurd to bury their bodies, which can save many lives. Nothing is more valuable. Be a donor, tell your family". Good on him.
Leave a Comment
Please login to comment