What was your first car?
Mar 28, 2013
Loading...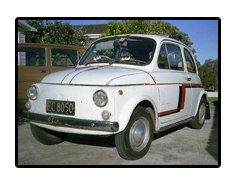 They say your first car is like your first love; it may break your heart or it may be a faithful companion until the day it dies, but you never forget it.
So what was your first car? Why did you buy it? Was it good to you? Let us know.

The above Fiat Bambina was my first car. It was old then and I'd say it's long since disappeared from our roads. Like many first car buyers I bought it because it was cheap: $500 cheap car. I remember the engine blew up so I got another engine which transformed it from an incredibly slow lump to a very slow lump – a big improvement. As a young drummer it had to take a full sized drum kit to gigs. I could make it all fit if the stands stuck out of the sunroof. I sold it to get something bigger that could keep up with cyclists. Oddly, I don't remember what that car was.
Leave a Comment
Please login to comment