Our guide to buying a good cheap car
Mar 1, 2013
Loading...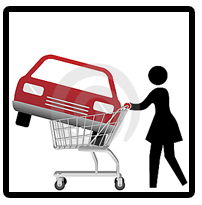 Buying a car on a small budget can be risky. Last week the New Zealand Herald wrote an excellent article on this very topic although they focussed on a budget of $15,000. Most of us have a portion of this to spend on first car so we're here to help. Here are some tips to help reduce the risk and get a car that's better than you expect. For all the students out there who are heading back to school, uni or polytech this one is for you…
Be flexible – Most car buying guides will tell you to work out what you really need/want. When you're on a tight budget it also helps to keep an open mind. If you need a people mover then stick to looking at people movers. However, if you just need a good set of wheels then you need to cast your net as wide as possible.
Avoid the obvious – Many car buying guides will tell you to buy a popular car like a Corolla. The problem here is that everyone has read the same advice. Suddenly you realise your $3000 budget will only buy you a scruffy 15 year old Corolla with sky high mileage and 'map of Australia' stains on the seats. Look outside the box and consider all makes and models, that fit your basic criteria.
Narrow down your search – Rather than narrow to make, model and colour, narrow the history instead. By this I mean, look for cars with low ownership and a full, documented service history. Ideally look for NZ new cars that have had one owner and a good life. You'll be surprised at what you can find if you are flexible in other areas.
Don't be scared of high mileage - A one owner used car with 200,000kms on the clock may be much better than one with low mileage but loads of owners and incomplete service records.
Do your research – By using Google you can find out an awful lot about a certain type of car. Much of what you find will be negative but you'll find that with any car. Look out for common, expensive problems and make sure the car you're looking at doesn't have these issues. If the car you're looking at has a problem, look it up on Google and see how bad it might be. Sometimes common problems have easy fixes.
Get the car checked out – A few dollars spent on a mechanical check could be a good investment. Remember, pre-purchase inspectors will always find faults as all cars have them. Don't be put off by minor, easy to fix problems, just factor it in to what you'll be prepared to pay.
Leave a Comment
Please login to comment