Knocked the B@stard Off
Jul 5, 2013
Loading...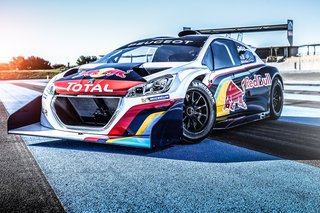 Turning up to Pikes Peak, the world's most famous hill climb event, in a Peugeot 208, with the aim of breaking the record is surely like turning up to a gun fight with a butter knife and claiming you're the only one leaving alive. Except this Peugeot 208 packs 875BHP and is driven by one of the all-time greatest drivers. And a tarmac specialist at that.
Pikes Peak rookie Sebastien Loeb turned up in a Peugeot 208 that looked like it had eaten a lot of Weetbix and proceeded to smash the record by over one and a half minutes. Loeb had said before the record run that if everything went perfectly he could break the record by 45 seconds. He's certainly left his fellow competitors with a mountain to climb next year.
Meanwhile, expat Kiwi Rhys Millen also lowered the previous record (his own) in a 900BHP Hyundai and Pikes Peak veteran Monster Tajima broke the electric vehicle record in his custom E-Runner, clocking a time of 9:46, just outside the previous overall record time from last year.
Leave a Comment
Please login to comment