Bargain Buy of the Week – 21st January 2013
Jan 21, 2013
Loading...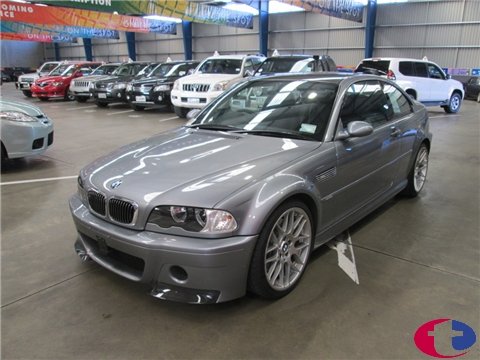 2003 BMW M3 CSL
The BMW M3 is an excitement machine. The standard model has a 338HP heart pumping under the bonnet ready to launch you to 100kph in just five seconds. But the CSL model is a whole other world. I must admit, when I saw this I went in search of my piggy bank and smashed it open. Unfortunately the glue still hadn't set after the last time I smashed it open. It contained $1.20. Damn you piggy bank!
Only 1400 CSLs were produced in December 2003 making it seriously rare. But it's also mental – certifiably bonkers mental. For a start it's 110kg lighter than the standard car. They did this by stripping out the sound deadening, stereo, air conditioning etc, although these could be retrofitted. They also made many of the panels out of carbon fibre, made the rear glass thinner, replaced the boot floor with fibreboard and generally made it more hardcore. To top it off they fitted specially developed racing suspension and bunged in 17 more horses under the bonnet. Oh, and they significantly hiked the price over the standard M3.
As I remember it, only a small handful of these were sold in NZ and I know one of them (owned by the NZ BMW driver training course) was destroyed in an accident. I had a ride in that car around Pukekohe raceway and my underwear never really recovered.
So what makes this used M3 the bargain of the week? When you consider its rarity, the low 36,000km and the fact it's pretty much a bonafide supercar then the auction estimate of $22,000 – $25,000 is a true potential bargain. Actually it's ludicrously cheap. See the car for more details…if you dare. And here's the Top gear review and hot lap to get you all fired up.
Leave a Comment
Please login to comment