There's only one movie in town this week…
Nov 30, 2012
Loading...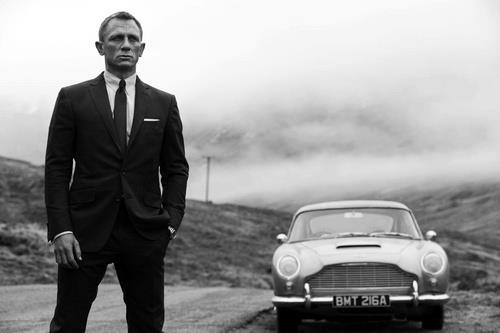 Yep, James Bond – Skyfall is the movie everyone's talking about. OK, so there's some other film that's got movie buffs chattering – I forget the name – but, as far as I know (because I wasn't invited to the premier), it has not a single car in it.
Skyfall, on the other hand, does have a car in it, several actually, but there's only one worth talking about – The Aston Martin DB5.
The Aston Martin DB5 has featured in several Bond films starting with Goldfinger in 1964 and it's surely the classiest Bond car ever.
But what's the story with the "Skyfall" car? Well there are two in the film, one belonging to the company that owns the Bond franchise that was cloned from the original Goldfinger car (now in private ownership) that was used as a body-double. The other car was found after a long search for the right car, but it wasn't exactly right as it was green with beige leather. So this car was repainted in the classic Silver-birch and re-trimmed in black leather and distressed to give it the worn look you'd expect in a 48 year old car. An extra stripe was then added to the roof for the ejector hatch. It's all in the details.
The DB5 itself was only produced for three years from 1963, has a 6 cylinder engine producing 282hp and a 0-100km time of 7.1 seconds – no slouch but not fast by today's supercar standards, in fact it'd struggle to stick with a Suzuki Swift Sport. But Bond always gets a bit extra out of his cars – not just his cars either.
Only 1059 DB5s were built and if you wanted a good one today you'd be forking out close to a million bucks for one that hasn't been in a bond film. One of the original Goldfinger cars sold in 2010 for over $NZ5.2 million, which seems quite cheap for one of the most iconic movie cars of all time.
*Spoiler alert* – The car in the main explosion scene at the end of the film is a 1/3 scale model. Phew! Here's a short clip to whet your appetite.
Leave a Comment
Please login to comment