Famous Footballer Cars of the past
Jun 15, 2018
With the Football World Cup kicking off in Russia and the crazy pre-season transfer market in full swing we are once again reminded how much today's football superstars get paid and the outrageous cars many of them insist on driving. Christiano Ronaldo has $11 million dollars worth of exotic motors, Lionel Messi also has an impressive supercar garage, and John Terry collects Ferraris. But what about the superstars of the past? What did they drive?
Pele – The Greatest
As perennial fan favourites and many pundits' pick to lift the Jules Rimet trophy come July 16th we'll start with one of Brazil's, and the world's, greatest ever players. Pele was an incredible player and this photo of him wearing an outrageous shirt and leaning on a rather modest Mercedes W115 was taken shortly after Brazil's 1970 World Cup final triumph. Back then it was Brazil handing out thrashings - they beat Italy 4-1 in the final with Pele opening the scoring and winning the Golden Boot award for best player of the tournament. A four cylinder Merc wasn't a cheap car in 1970 but it was hardly a supercar. You could buy one today for a couple of grand.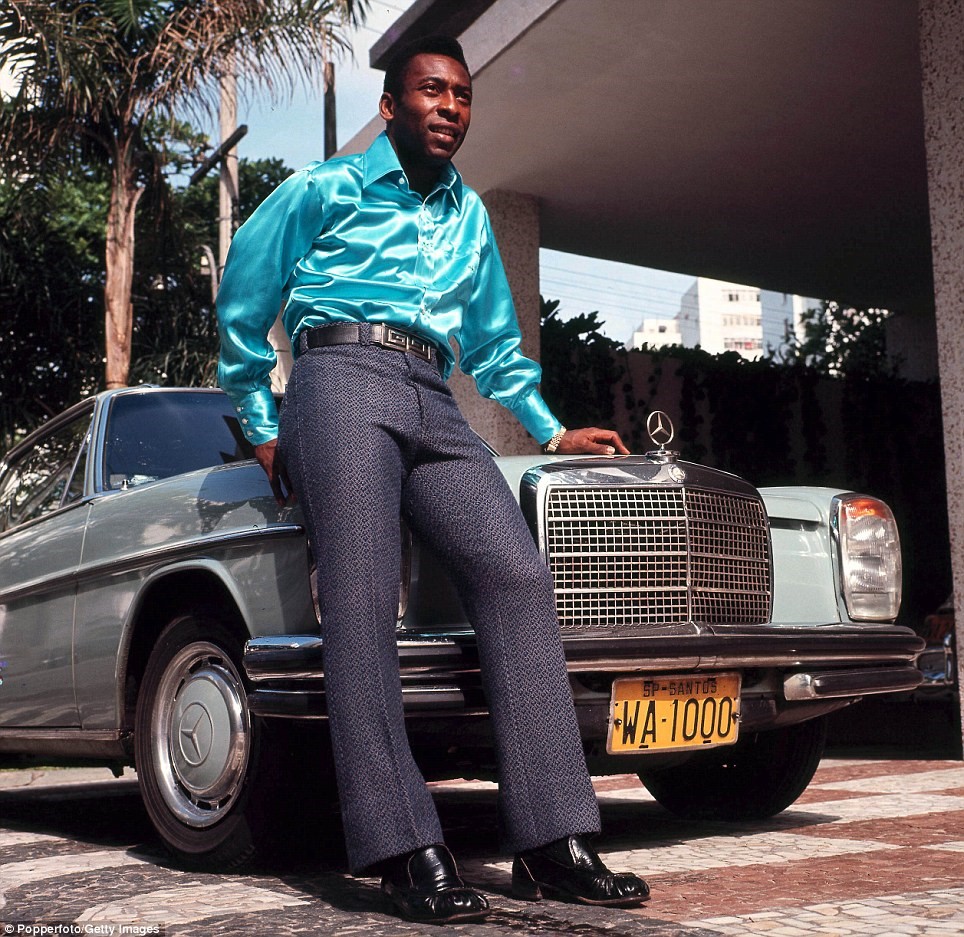 Franz Beckenbauer – The Kaiser
Current World Champions Germany are incredibly successful when it comes to the World Cup but it's their German efficiency rather than flashy superstar players that usually gets the job done. Take possibly the most famous German player of all time, Franz Beckenbauer, who won the World Cup as a player and a coach. His 1972 BMW 2800cs coupe may not have been a Lambo or a Bugatti but it would've been pretty cool in 1972 without being too decadent. A modest sports coupe in its day but you wouldn't get much change from $50k if you wanted to buy one today.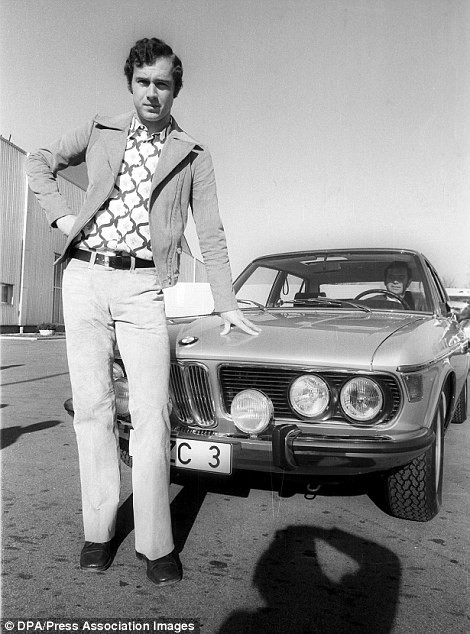 Geoff Hurst – The Hat trick hero
You have to go back a long way to find an English World Cup winning star. Geoff Hurst (left) scored a hat trick in the 1966 final against Germany. He is still the only player to score a hat trick in the final and in 1970 he was driving a Ford Cortina 1600E, which is just a very British thing to do. It may have been just a sporty Cortina but you'd need to shell out at least $15K for a decent one now.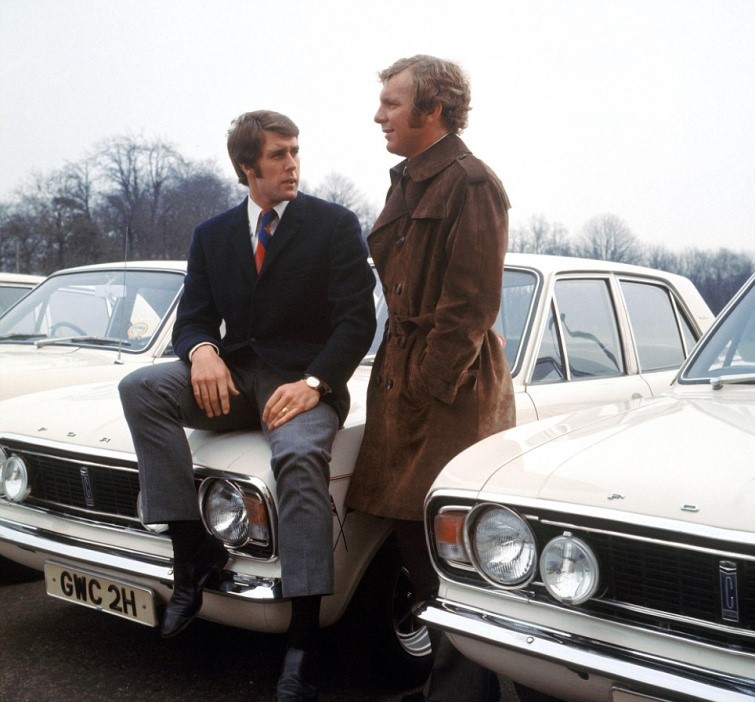 George Best – The original celebrity footballer
He's one of the greatest players never to play in the World Cup. In 2004 Pele, surely the greatest player ever, actually reckoned Best was the best ever. He was also the first celebrity footballer. Best acted like a pop star and drank and partied like one, too. He is pictured here in his 1967 Lotus Europa, one of the many flash cars he was seen in. He famously once said "I spent a lot of money on booze, birds and fast cars – the rest I just squandered". He became an alcoholic and eventually died in 2005 due to a wrecked liver. Despite being a pretty mid engine Lotus they are surprisingly inexpensive today. You'd still need a cool $40k for a look in though.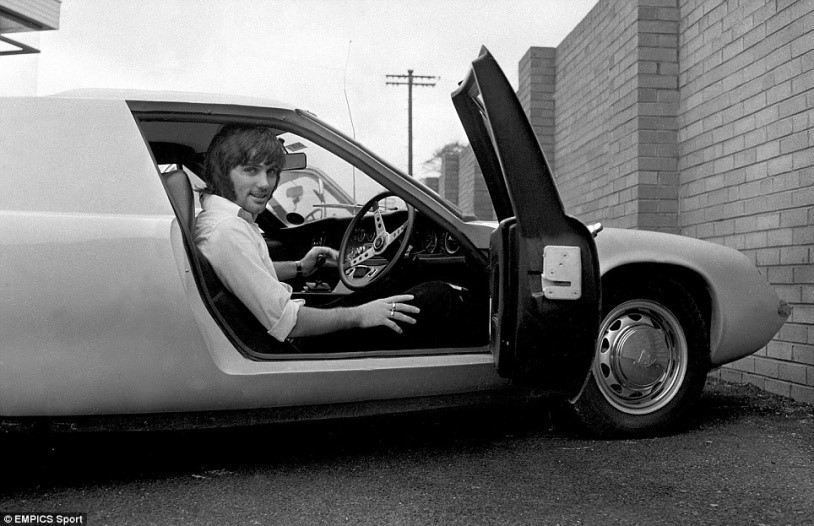 Francis 'Franny' Lee – The toilet tissue tycoon
Franny Lee's not so well known to many but he did play for England at the 1970 World Cup before making the natural progression into the toilet paper industry where he made his millions.
Is there a football star today that can pull off this look while posing in front of their Ferrari? I don't think so. Footballers today wouldn't be fit to wipe Franny's…
Despite the imposing nature of his 1972 Jag and the fact it was a true status symbol for any top footballer, you could buy a decent one today for next to nothing.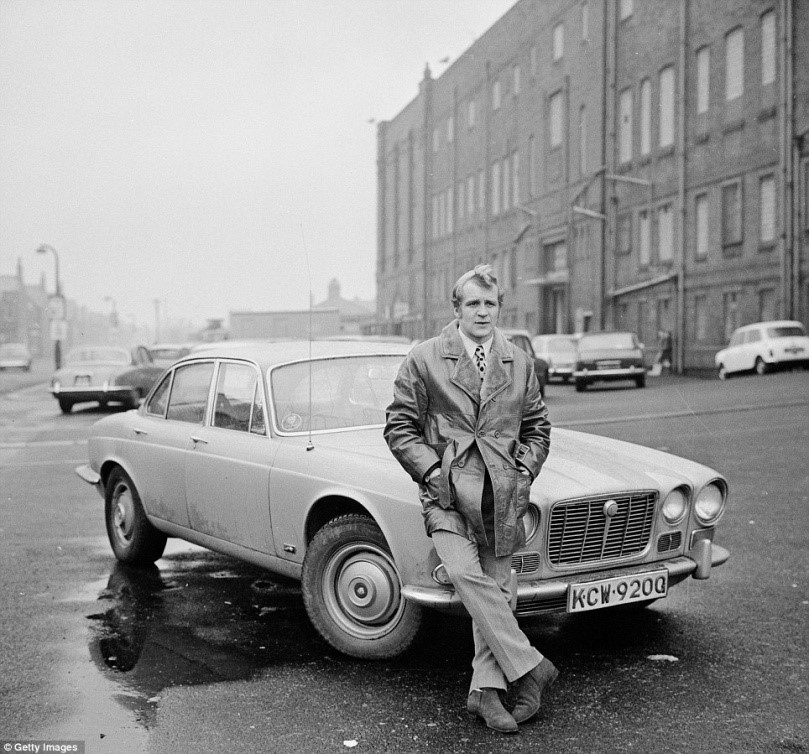 Paul Mariner – The Nose for Goal
By the eighties some footballers were starting to get bigger pay packets and cars to match. Paul Mariner, a normally prolific striker with an impressive beak, played for England in the 1982 World Cup where he scored one goal in their opener against France. They were knocked out in the second round when the goals completely dried up. Meanwhile New Zealand were making their World Cup debut but were sent packing after the first round, back to their Ford Escorts and Vauxhall Vivas. Paul's Porsche 911 was serious dough back then and nothing has changed today.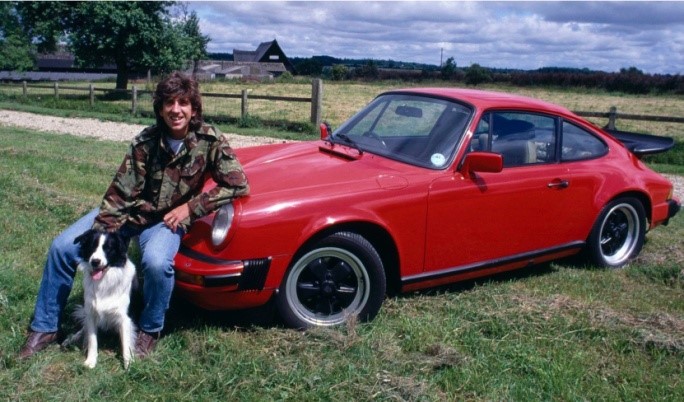 Diego Maradona –The hand of God
The beaten finalists in 2014 were the winners in 1986 thanks largely to this bloke, Diego Maradona. In that edition of the World Cup he scored the infamous 'hand of God' goal and also one of the greatest ever goals in the same quarter final match against England. In 1987 the newly minted superstar bought this Ferrari Testarossa, possibly the most outlandish car you could buy at the time. Despite looking fairly dated today you'd still need to part with $80k+ for a shabby one.
Leave a Comment
Please login to comment