Best Buys on a Budget
Apr 16, 2018
For many of us, buying a brand new car is not an option and a near new car is still beyond the constraints of our current budget. But the thing is, there are many good cars out there for the budget conscious, it's just a matter of identifying them.
So let's take a look at a cross section of makes and models that can be snagged for $6000 - $8000 that will give you good value for your hard earned money.
Of course one person's value for money will be different to another's. Some will value reliability and fuel economy above all else, some will sacrifice some running costs for speed and power, while others will seek prestige with loads of fruity extras and be prepared to compromise a little on reliability and economy. So with this in mind here are just a few examples that cover the bases but there are plenty of others.
Suzuki Swift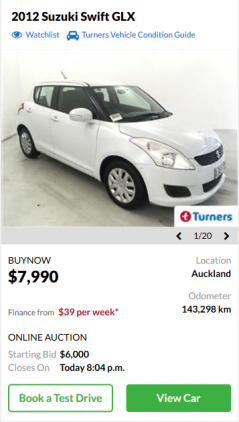 Suzuki Swifts are popular, really popular. That's because they are an excellent small car. They are attractive, reliable, cheap to run, fun to drive and anybody can be seen driving one without a judgement being made on their age, gender, sexuality etc. They are also plentiful so finding a good one within our $6000 - $8000 price range won't be a problem. It's one for the reliability/economy buyers who still want just a touch of character. Find your next Swift here.
BMW 1 Series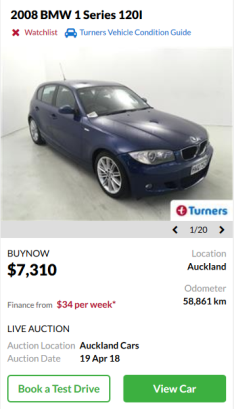 The BMW 1 Series is a very stylish car that still carries itself very nicely for its age. To the untrained eye an old one looks much the same as a newer one so early cars still have plenty of BMW prestige left in the bank. A 4 cylinder 120i has good power and is a rewarding drive but servicing costs are on the high side. It's a lot of car for your money and they are reasonably plentiful so finding a good one within budget shouldn't be too difficult. Definitely in the champagne for beer money category. Check them out here.
Ford Mondeo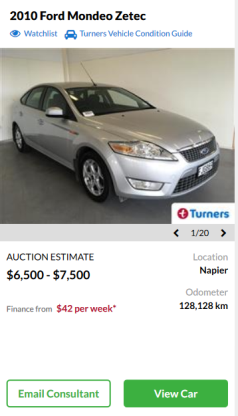 The Ford Mondeo is a perennial favourite of fleet managers and as a result there are always plenty of well serviced examples for sale at any given time. It's also smart, attractive and drives very well. Due to its popularity you are hardly likely to stick out driving a Mondeo, if anything you're likely to blend in. And finding your car in the supermarket car park is likely to be a challenge at times with your car being one of several identical cars in the vicinity. But what the Mondeo lacks in individuality it makes up for in driver appeal. Mondeos have always been rewarding to drive and if you need repairs you're never far from a Ford dealer or a workshop that knows them inside out. It's a sensible choice for the medium sized car buyer and not difficult to find a good one within budget. Find them here.
Mazda RX-8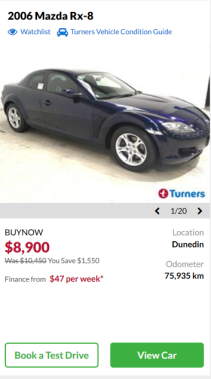 For buyers looking for a performance bargain the Mazda RX-8 is certainly worth considering. In recent years the prices on these have really been on the skids and good examples can be found at bargain basement prices. What you get is possibly one of Mazda's last rotary engine cars packaged in an unusual but unique body. It looks like a 2 door coupe but it cunningly has rear suicide doors giving easier access to the dinky rear seats. Depending on the model you get between 190 – 237hp in a car that has won multiple international motoring awards. Sub $8k cars are readily available and a stock, low mileage manual car would be the ticket. Use it on the weekends, store in the garage and in a few years it might have gone the way of other RX models and be worth a small fortune. Dare to be different and find one here.
Honda Odyssey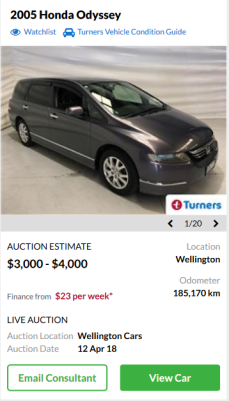 If you've joined the world of school runs and family holidays then a people mover is in order. The sleek, low design of the third generation Honda Odyssey is hard to go past with its cavernous space, 7 seats and car like appearance. The 2.4L engine is very good and is just as economical as the earlier 2.2L engine whilst boasting more power. The Odyssey has long been popular so there are plenty to choose from and they are surprisingly cheap for what they are. It may not be the choice of a single person looking for a stylish ride but if you're not that person anymore it's time to accept it and move into the realm of family motoring. A sensible family option - find some here.
Volvo V50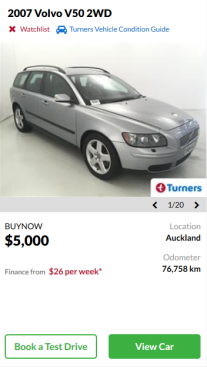 If a bit of understated Swedish class with wagon practicality is what you're after then I can recommend the lovely Volvo V50. The V50 is built on a Ford Focus/Mazda 3 platform and fitted with a beautiful sounding 5 cylinder engine that is smooth and powerful. The interior boasts some very clever flourishes like the built in child booster seats in the rear and a floating centre dash console. It's a package that works well and driving the Volvo is a pleasure. Servicing costs are on the higher side but it generally has a pretty good reliability reputation. These Volvos can be picked up for a song and are a good alternative to a BMW or Audi. A sensible and safe option for Euro buyers. Check them out here.
Leave a Comment
Please login to comment