All Oval Bar the Shouting - 10th October, 2016
Oct 10, 2016
Loading...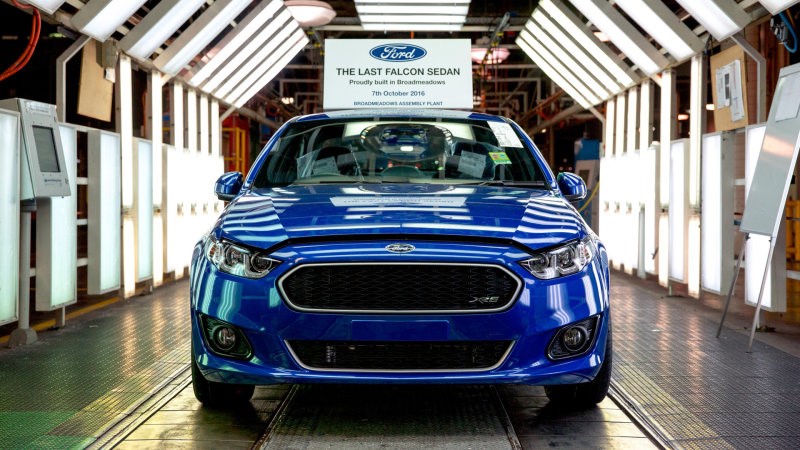 The Final Australian Ford rolled off the Broadmeadows assembly line on Friday and on Sunday there was no fairytale Bathurst 1000 victory for the blue oval supporters. Then there was the news that some Ford dealers have been stockpiling the limited edition final run XR8 and are now hiking the retail price to take advantage of teary eyed Falcon lovers. It's not been a good few days for Ford fans. But it's not all doom and gloom.
Okay, so it's mostly doom and gloom. After 91 years Ford manufacturing in Australia ended on Friday with the last car being a blue Falcon XR6 (above). That car, along with the last Territory and Falcon Ute, will go into the Ford museum but the last four saleable cars are being auctioned off to raise money for local schools. Apart from that and a few employees being retained in development roles there's not much to cheer about.
And before all you Holden fans get all smug about a Commodore winning the great race on Sunday it should be noted that General Motors Australia manufactured its last small car on Friday as well (a Holden Cruze). And the Commodore will be no more next year. That leaves Toyota as the sole Aussie manufacturer....oh, hang on, they are also shutting shop next year.
There will be a tinge of sadness here at Turners as well. In nearly 50 years in the car auction business the Ford Falcon has been one of the most common, and popular, cars to go through the Turners auction lanes. Of course they still will continue to be sold by Turners but in ever decreasing quantities.
So maybe give a salute to the next Ford Falcon you see today. It has served NZ well, too.

Leave a Comment
Please login to comment