Historic Harley - 7th January, 2016
Jan 7, 2016
Loading...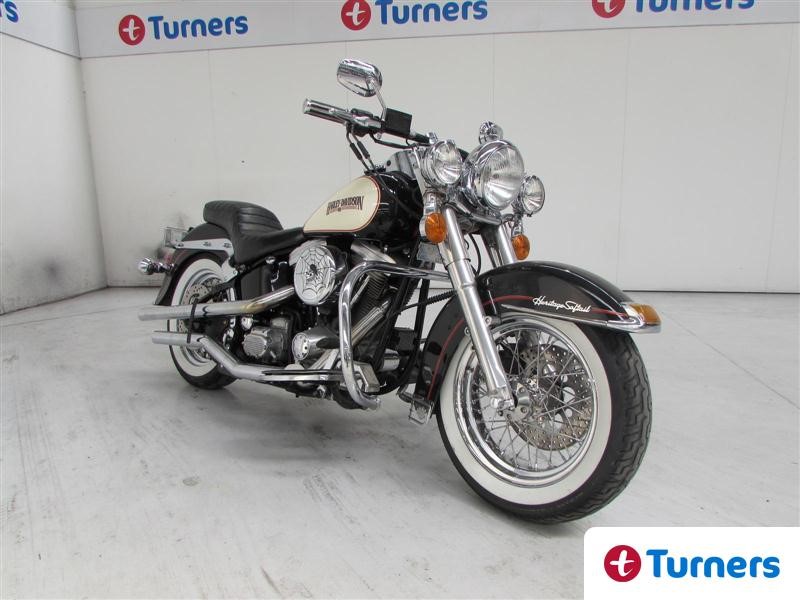 It may look like it comes from way back in Harley Davidson's history but this Harley cruiser is actually from 1986. Although it's not as old as it looks this Softail Heritage is quite a historic machine and it's being auctioned right now.
The Softail Harley was designed to give the appearance of the old hardtail bikes that had no rear suspension but, as the name suggests, the Softails were fitted with rear suspension which transformed it into a comfortable long distance cruiser. The concept was created by a Harley enthusiast and sold to the company in the early eighties. In 1984 the first Softail was released with the brand new 1340cc Evo engine fitted. This new engine was Harley's first all new engine in 50 years. Then in 1986 the Softail Heritage model was released with all its chrome and a very 1950s hotrod feel.
This brings us to the bike that is being auctioned by Turners Christchurch. Being from 1986 this machine comes from the first year of production of a model that is still being produced by Harley Davidson today. A new Softail Heritage will knock you back over $30k but like any classic car or bike the first year of production is always sought after. Despite the design flaws and niggles that are often part and parcel of anything in its first year of production there's something a bit special about owning one of the very first to leave the factory. And while this bike has a few niggles of its own (it doesn't start, leaks oil and is missing the original key) it is still an appreciating classic that just needs a bit of love.
This classic NZ New Harley cruiser is being auctioned online right now and closes on 13thJanuary.
Leave a Comment
Please login to comment