Bulked up Bugatti on a Public Road
Aug 1, 2014
Loading...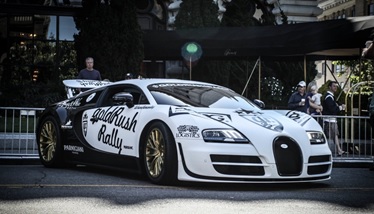 Bulked up Bugatti on a Public Road
If a standard 1000hp Bugatti Veyron isn't hardcore enough for you – and let's face it, it is a bit pedestrian – then you could opt for the 1200hp Super Sports version. The extra power is always nice to have for those steep hills or long over taking manoeuvres and it's particularly handy if you want to nudge 400kph on a public road.
This demonstration of ridiculous speed was part of the Sun Valley Road Rally event in Idaho and the road was closed for the event. The Veyron Super Sport is one of only 30 built and this one is the only Pur Blanc (pure white) version, built for an American who clearly doesn't mind that there is plenty of black showing on his 'pure white' car. It may not hold the record for top speed – which is held by some good ol' boys called Hennessey in a Venom GT that is even more powerful than the Bugatti and weighs about as much as a slightly plump Chihuahua – but a smidge under 400kph is pretty swift all the same.
Speed like this doesn't come cheap though. This Veyron is worth around 3.3 million dollars and servicing costs are likely to be a bit higher than your average Mondeo. A new set of tyres costs around $40k and they need to be replaced every 4000kms so it would be an expensive drifting car option.
Watch the video here
Leave a Comment
Please login to comment