Oh Lord won't you buy me a Mercedes Benz?
Aug 14, 2013
Loading...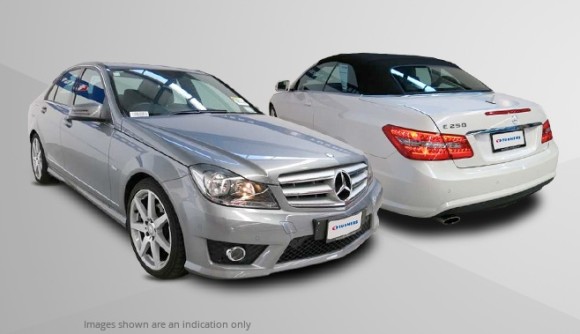 Turners Cars in Auckland has unofficially become the newest Mercedes Benz dealership north of the Auckland harbour bridge… for a week at least.
As a general rule of thumb, most people don't buy a new Mercedes with the intention of selling it within a year. So you don't expect eight of them to show up to be auctioned. But that's exactly what's happened. All eight cars are 2012/13 models with between 5,000 and 12,000kms on the clock. They are all NZ new and come complete with the balance of their new car warranty.
At the top of the pile is a 2013 E250 CGI Cabriolet that's travelled 9000kms. The list price on a new one is $135,900 but the guide price at auction is just $86,000 – $88,000. You get a 1.8L Turbocharged engine, 7 speed transmission and more features than you'll ever learn how to use.
Then there's a 2012 C250 Avantegarde with an AMG sports package. The new list price is $84900 (add another $6250 for the AMG pack) but the auction guide price is $59,000 – $61,000.
There are five C200 diesel and petrol sedans. These have a list price of $69,900 – $72,500 but the auction guide prices range between $48,000 and $58,000.
These cars are all very fuel efficient for luxury cars with all receiving 4 and 5 star Fuelsaver ratings. Needless to say they are safer than most houses.
So if you're in the market for a new car and you figure your budget might just get you into a top of the range Honda Accord, think again. All but the E250 could be bought for less than the price of a V6 Accord. I know which I'd rather have.
All of these cars are being auctioned at Turners Cars North Shore on August 22.
Leave a Comment
Please login to comment