Christchurch Classic auction results
Oct 19, 2012
Loading...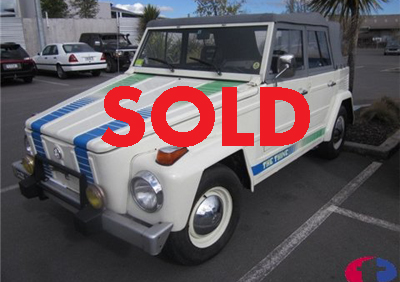 Christchurch Classic auction results
As covered in the most recent edition of The Good Oil, Turners Christchurch had a swag of retro runners and exotic Euros in Saturday's classic auction. And it was certainly the lower valued cars that got the bidders excited.
Two Morris Minors attracted spirited bidding with the very tidy 1959 saloon selling for $5700 and the 1962 model making a healthy $4500. A very nice, and not that old, 1996 Commodore set some bidders in a bit of a frenzy finally going out the door for $8050 while the 1986 Porsche Carrera soft-top barely raised a permed eyebrow selling for just $12400.
The Volkswagen Thing will be scaring small children in its new owner's neighbourhood after it sold for $7400 and the little 1949 Fordson truck made a respectable $3800.
The biggest disappointment was the museum quality Ferrari 328 not finding a new owner. I guess that's a sign of a tough economy when mid 90s Commodores get the bidders going but a much admired Ferrari remains a dream car for those in attendance. I know it's out of my reach, but it was when the economy was buoyant, too.
The highlights
| | | |
| --- | --- | --- |
| 1959 Morris | Minor | $5,700.00 |
| 1986 Porsche | 911 | $12,400.00 |
| 1996 Holden | Commodore | $8,050.00 |
| 1962 Morris | Minor | $4,500.00 |
| 1985 Jaguar | Sovereign | $2,600.00 |
| 1924 Dodge | Four | $9,700.00 |
| 1973 Volkswagon | 181 | $7,400.00 |
| 1966 Raleigh | Phillips Traveller | $1,900.00 |
| 1949 Fordson | E83WCF | $3,800.00 |
| 1985 Jaguar | XJ6 | $1,500.00 |
| 1992 Citroen | BX19 | $2,200.00 |
| 1986 Mercedes-Benz | 500SE | $4,550.00 |
| 1965 Austin | Healey | $4,950.00 |
Leave a Comment
Please login to comment