Lawson takes another podium in EFO - 10th June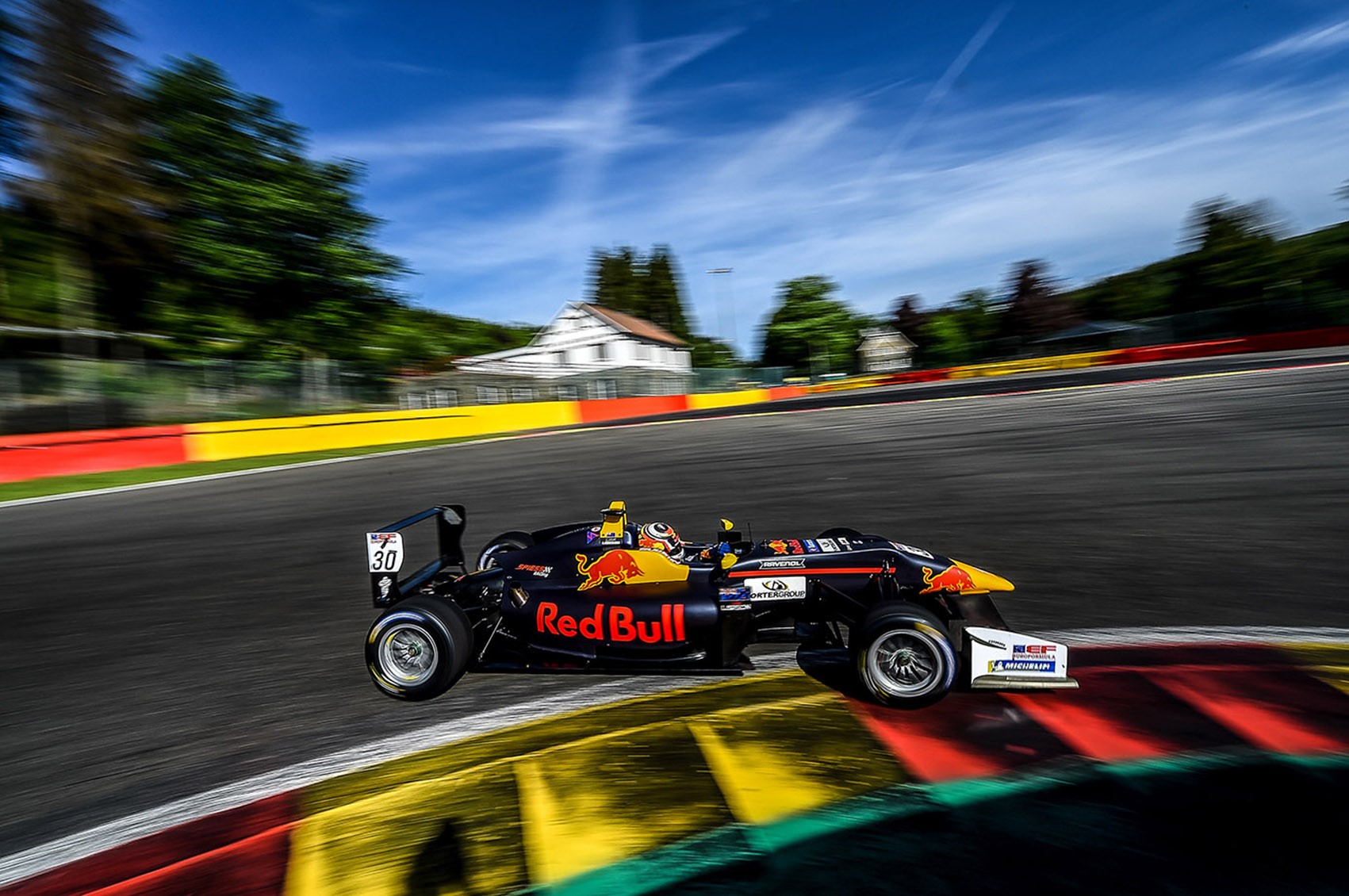 Lawson takes another podium in EFO
A poor qualifying by Liam Lawson for the opening race of Euroformula Open at Spa-Francorchamps in Belgium didn't stop the Kiwi teenager from making the podium.
In the closing minutes of the morning qualifying session, Lawson tumbled from 2nd to 8th as he battled with a badly understeering car.
Team Motopark made considerable changes to Lawson's car for the mid-afternoon 13-lap race, and the switch paid off. The Red Bull Junior Driver passed four cars on the opening lap to advance from 8th to 3rd.
On Lap 2 Christian Hahn took third place off Lawson but 17-year-old Kiwi snatched it back before the lap was over and then pulled away. Australian driver Jack Doohan then got by Hahn and shadowed Lawson to the chequered flag for fourth place.
Meanwhile, out front, Lawson's teammates Marino Sato and Yuki Tsunoda stayed in their starting positions for the whole race. It was Sato's third straight win of the season, leading all the way from pole position.
For Lawson, getting his Porter Group/Turners/Giltrap Group backed #30 to the podium was a silver lining for a difficult two free practices sessions and qualifying.
Lawson continues to hold 2nd place in the EFO championship, 27 points behind Sato and 6 ahead of Tsunoda. A second qualifying and race at Spa will be held on Sunday night, NZ time. At just over 7-kilometres long, and home of the Belgium Formula 1 Grand Prix, it one of the longest circuits the EFO cars race on, with the fastest lap times around 2m12-seconds another podium in.
Lawson's racing campaign in Europe is proudly supported by the Porter Group, Turners, and Giltrap Group.
Race 1 - Top 10
1. Marino Sato (Motopark)
2. Yuki Tsunoda (Motopark) +2.974s
3. Liam Lawson (Motopark) +6.384s
4. Jack Doohan (Double R) +9.655
5. Julian Hanses (Motopark) +12.742
6. Christian Hahn (Carlin) +17.645
7. Javier Gonzalez (RP Motorsport) +23.218
8. Teppei Natori (Carlin) +24.955
9. Linus Lundqvist (Double R) +25.459
10. Billy Monger (Carlin) + 25.659
Championship Classification - Top 10
1. Marino Sato 131 points
2. Liam Lawson 104
3. Yuki Tsunoda 98
4. Lukas Dunner (Teo Martin) 74
5. Julian Hanses 59
6. Linus Lundqvist 45
7. Jack Doohan 40
9. Billy Monger 29
10. Christian Hahn 28
Go back and read all of Liam's progress updates here