Innovation Ideas
Thank you for all your innovation ideas!
All Past Winners
_________________________________________________________________________________________________________
Please see the list of ideas below - click these to reveal the full idea
August-September 2016 1st place winner was
Phillip Brenchley - Get a signature on Condition Guide upon Sale
Other August-September 2016 entries as below
Phillip Brenchley - Get a signature on Condition Guide upon Sale
Phillip Brenchley - Condition Report access on Trade Me needs to be clearer
Pierre Jubault - Vehicles auction update
Lee Jacques - New Car buyers, Insurance or Extended Warranty Teaser
Lee Jacques - Digital Signatures for Stock Now
Amanda McCloughen - Car movies
Murray Lee - Watchlist improvements
Sarah Redfern - Improve Bidder/Test Drive Registration Cards
Sarah Redfern - Make the Buy Now and the Auction catalogue covers different colour
Sarah Redfern - On car listings, include number of previous owners and NZ New or Import details
Ruth McFarlane - Automatically populate Suggested pricing based on Auction Estimate/Reserve
Ruth McFarlane - Have a national Buy Now manager
Ruth McFarlane - Enter Recycling program at Christchurch
Sean Wiggans - Online booking system for Valuations and Test Drives
Sean Wiggans - Change website search, so not division dependant
Carlie Walker - Change website to have "Coming up" display
Natalie Grainger - Produce a promotional "Trucks" calendar
Nusrat Nasim - Additional Notes field in mars to update on status/actions
Carlie Walker - Advertise on Treat Me/Groupon etc with click bait
Lisette Zonnebeld - Print Vendor# on Cash Now offer to purchase forms
Karla Johnston - Add Trade-in as a payment method on finance screen
Full entries - August-September 2016
Phillip Brenchley - Get a signature on Condition Guide upon Sale
Add an "understood and read + sign" on the bottom of the condition guide when a customer either picks up or is sent paperwork to sign, saves arguments afterwards that they never saw the condition guide. In Napier we get customers to sign a copy of Condition guide upon sale and has immediately had an affect on potential CGA claims
Phillip Brenchley - Condition Report access on Trade Me needs to be clearer
We need to be Clearer with the condition report on Trade Me, maybe add the report as one of the photos as a standard first photo?
Pierre Jubault - Vehicles auction update
As soon as a vehicle go through auction twice and it is still unsold, each consultants should get a notification saying that this vehicle need an action: update to the customer, pricing adjustment based on our last sales in order to offer different solutions to our clients. Then, we will be able to increase our reactivity and enhance our relationship with our customers.
Lee Jacques - New Car buyers, Insurance or Extended Warranty Teaser
As part of the buying process on our cars we could offer a unique gift which is called a Tile. The Tile is a Bluetooth device which you can attach to your keys and link to your Phone.
If the buyer decided to take out an extended warranty with us we can offer them this device as part of the deal for free. The tile has a tiny speaker so if you loose your keys or leave them somewhere you can use your phone to find them. Current unit cost is US$25 per device, however there are bulk options available, including branding options. Great additional gift to support out extended offerings.
Lee Jacques - Digital Signatures for Stock Now
​When users of the Stock Now application are completing a release to a vendor the Stock now application should support the ability to capture digital signatures directly on the iPad or iPhone.
This would work the same way as courier companies do when delivery registered parcels. The system could record the date/time and GPS location data, the Consultant could then check the signature against a valid drivers licence, then tap an option on screen to say it has been validated. Reduce printed paper overheads, speed up release process and reduce overheads in storing paper copies.
Amanda McCloughen - Car movies
Update the way we view cars for sale with 15-30sec videos. These can be made with the photos and static images but brought to life with movement and titles rather than a typical slideshow that the customers have to click through. And/or footage of the cars in motion with snappy edits and music to bring the power and excitement of buying a new car to life. I myself have studied film and am able to create these videos for the company if the idea is green lit. All we need is a decent motion camera and an editing suite which can be purchased for around $100 and we're in business :) If the static image idea is preferred this is easy to teach the current car photographers how to edit together photos with effects and titles to turn them into interesting videos for consumers to watch.
Murray Lee - Watchlist improvements
The idea of a watchlist is intrinsically linked to auctions - people waiting for cars to go into a sales event such as auction or tender. As we are increasingly trying to get public involvement on our site, and it is best for them to buy from us through a "Buy Now" channel, the term "watchlist can be replaced by the emotive "My Cars". We can also look at targeting private people who have had cars marked for a week or two: " We still have your <insert car here>! Click here to request our consultant call you!
Pay full buy now on all vehicles sold at full rate and half/reduced commission on negotiated buy now's.
Sarah Redfern - Improve Bidder/Test Drive Registration Cards
Customers are often in a hurry to fill out the details on their bidder/test drive registration cards. What they don't realise is that how they fill this out is how their information is entered into our system then will be what is on their invoice. Reception staff do our best to enter the handwritten details we are given as carefully as possible, often trying to decipher unreadable handwriting. Perhaps a note at the top of the card could say please print clearly as these details will appear on any invoice for sale.
Sarah Redfern - Make the Buy Now and the Auction catalogue covers different colour
Make the Buy Now and the Auction catalogue covers different colours. Customers often just come and try to take Buy Now catalogues from the Reception desk then come back asking for an Auction Catalogue. They are both blue and the DVA catalogue is maroon. Perhaps different shades of blue or a bright red for one of them?
Sarah Redfern - On car listings, include number of previous owners and NZ New or Import details
On the website always include the number of previous owners, specifically state whether the vehicle is New Zealand New and if not where it was imported from. If possible include if the car is imported/owned by Turners or a company. Many of our calls are from customers asking these questions which we have the answers to on Mars.
Ruth McFarlane - Automatically populate Suggested pricing based on Auction Estimate/Reserve
Can we have a tick box that sends the estimated auction value/reserve etc from sales details to turners price suggestions. This would make things easier if both values are the same rather than have to type this in 2 times. If they are different we can do status quo but this would be faster if the vendor is going with out suggestions.
Ruth McFarlane - Have a national Buy Now manager
We need to create a backbone of understanding of the company cars and encourage buy now's with all of our major customers and departments. By creating the backbone system to enable this will shift more cars and so on which will create more revenue! And space too. Have a person controlling this and liaising with these company's ! I put my hand up for this role! ( We are becoming proactive rather than reactive).
Ruth McFarlane - Enter Recycling program at Christchurch
Being new into the business; I am quite surprised CHCH does not have a recycling program/bin/option. This does not cost much – even to have a extra CHCH yellow recycling bin. The amount of money you save in skip fees will well and truly pay to have a recycling bin and this is creating a better impression and better to recycle!
Sean Wiggans - Online booking system for Valuations and Test Drives
Online booking system for Valuations and Test Drives
a. Standard spaces available or not
i. E.g.; if 3 CashNow consultants are available at 9am on Saturday morning, there will be 3 slots to enter your name and contact details
b. Benefits are
i. Positive Customer experience
ii. Staff management
c. Roll out could be
i. Initially use Call Centre to manage bookings
ii. Then turn it over to the public once system proven
Sean Wiggans - Change website search, so not division dependant
"Search" not being Division dependant
a. If looking for light commercial under Trucks, the search will also pick up all light commercials from Cars
i. Boats under trucks, should still pick up any in DVA
b. Benefits
i. Customer sees the entire offering – higher chance of success
c. Potential issues
i. Still location dependant – but this is not different from Roscommon to Tauranga etc
ii. If the customer is a trucks customer, and doesn't want to deal with cars, we should manage the listing internally – to the customer it should be seamless
Carlie Walker - Change website to have "Coming up" display
Make vehicles with unpublished and no mechanical immediately appear entered aka not available so we don't sell them until they're ready but still appear on website for advertising purposes. We can still sell the vehicle (but not without making customer aware and sign paperwork to selling without report for CGA purposes), and also not book to catalogue.
I get a lot of queries about stock coming up. Maybe that could be something shown too on the website so people can prebook to their profile watch list and retain customer interest. 'Coming Up' or 'New Arrival' or 'Fresh Stock'
Natalie Grainger - Produce a promotional "Trucks" calendar
Idea for Trucks, get own calendar created and printed for Trucks database, can include all important upcoming truck shows. Good giveaways to customers and get the Turners name for trucks out there.
Nusrat Nasim - Additional Notes field in mars to update on status/actions
Contact Centre gets all types of enquiries for all branches therefore it is essential that we have the necessary information and access to the communication between the customers and the other staff members. Sometimes consultants remove cars from the website when it shows available in mars can be very confusing as customers call us and want to know about the car.. Also, we struggle when customers don't have enough information and get confused who they have spoken with earlier about the car price negotiation and other enquires which cc don't have the access to,. It is very time consuming to handle those calls because customers get frustrated repeating everything to different people to find the right person to talk. Considering all the issues it would be good to include a field in mars to show the record of staff members' notes who dealt with the customer previously, also each time staffs touched the car listing they can update the notes in mars (goods & catalogues) just to let others know what's going on with the car for the effective internal communication. This will lead to deliver excellent customer service.
Carlie Walker - Advertise on Treat Me/Groupon etc with click bait
9.95% finance rate (or something) if fit criteria between selected time.
Offer goes out on Group on/ Daily do/ Living social websites.
$0 to purchase.
Lisette Zonnebeld - Print Vendor# on Cash Now offer to purchase forms
I would like to suggest that the vendor# gets printed on the offer to purchase forms (cash now) when they get printed. This will save time at the processing
End of this procedure as currently we have to search the customer in Nav or write the vendor# before transferring to Fleet.
Karla Johnston - Add Trade-in as a payment method on finance screen
We have had a couple of errors and grumpy customers. The girls have had trouble with the trade amounts for cars on Buy Now deals. Would it be possible to add trade in as a payment method in the finance screen. It would be a double check on the math and avoid the awkward follow up call if the amount had been worked out incorrectly.
June-July 2016 1st place winner was
Dean Sinclair - Upgrade stock now so it you can also enter registration plate numbers
June-July 2016 2nd place winner was
Other June-July entries as below
Lee Jacques - Turners Intranet Refresh
Phillip Brenchley - Customer Survey
Jeffrey Lo - Customer Ticketing system
Dean Sinclair - Update lotting in MaRS
Craig Sherrif - Permissions in MaRS for C&I
Natalie Grainger - Website - Translation
Sarah Degerholm - Phone Bidder Registrations
Kevin Bankers - Warranty Promotion
Karla Johnston - Finance Receipting Screen - Trade Ins
Dion Daley - Car Photo / Video Innovation
Phillip Brenchley - iPad Kiosk Enhancement
Amanpreet Singh - Publicity / Sponsorship
Hayley Toung - Create a Turners Geocaching series
Dean Sinclair - Stock Now - Enhancements
Carlie Walker - Buy now in progress
Micah Bremner - Condition report
Micah Bremner - BuyNow Standards
Murray Lee - Private vendors say goodbye to their car publicly and promote us!
Murray Lee - Cartopia Guerilla Advertising
Sam Brown - Slack messaging App
Full entries - June-July
Lee Jacques - Turners Intranet Refresh
Our intranet is a great platform to deliver content to our customers, but the issues we have at the moment is that it lacks structure and quality
By reviewing the current service, and implementing a refresh new look, we could re-launch the intranet and to all business units to collaborate and share information. This not only creates a sense of community but builds and strengthens our current culture, with the key emphasis on being "more informed as a business".
The following areas would be deemed as perfect candidates to undertake an information overhaul and re-introduce a new look and feel to that customers can easily access important information quickly and efficiently.
Health and Safety - Dedicate Team site contains all the information customers require regarding the new health and safety policies.
Training - Single location for all Turners application, systems and service training material including a yearly calendar showing First Aid, Fire Safety and General safety course/classes
Boss Blog - A dedicate area for our senior exec's to freely post up information they wish to share with the business
As user adoption grows it will become the key place to go for information and content, and thus reduce duplication and emailing of content around the business
Phillip Brenchley - Customer Survey
Ask "How did we do" after Bidding online or Buying anything via Internet, live Auction or online bidding, popup box asking a few questions, and Add a "How did we do" question on our Invoices with a link to give feedback, offer free gift each month ($50 petrol Vouchers?) for entries, Drop Mystery Shopper
Guard X is a paint and fabric protection for your vehicle, I use to apply this to vehicles when i worked at car yards. We could offer this to all car sales but mostly aimed at import sales to boost profit.
Jeffrey Lo - Customer Ticketing system
Use a ticketing system which some banks use to improve efficiency and customer service
https://en.wikipedia.org/wiki/Queue_management_system
For CASHNOW
We can process customers valuation in order of the queue. Directly one after another.
At the moment, we are limited by appointments where sometimes there are 2-3 customer waiting for one consultant to finish the first appointment and other consultants waiting for an appointment to come, which might not even show up.
On fully pre booked days, walkin customers may have been recommended to come back on another day where customers can not be served immediatly.
This has also impacted BUYNOW consultants where customers with tradein will determine if they have the sale or not.
For Finance also
On busy days, finance consultants have customers lining up in all directions in the front desk area which it sometimes quite confusing which customer is first or if they are actully here for finance or valutation or waiting for a car to be driven out by a driver.
Dean Sinclair - Upgrade stock now so it you can also enter registration plate numbers
​Make a change to the stock now application so users can enter registration plate details as well as the reference number. This will enable staff to look up car details off the key tag rather than having to find a PC to access Mars for location details. This would be very handy on Auction nights as there can be up to 100 vehicles the need to be found and moved. By accessing the information on the move it would improve the efficiancy of the staff bringing the vehicles inside for the next auction.
Dean Sinclair - Update lotting in MaRS
Add an additional field to the ​Listing Lotting which is used when lotting goods against a catalogue. The new field is a Y/N flag for Buy Now.
We have made a change in lotting cars against catalogues where we leave buy nows in there current location, which removes the nessesity of moving cars multiple times. To lot the cars i currently have to go into the catalogue then run a report which shows the buy now flag. The report is then printed off and then i go through the listing lotting and lot the cars that have a buy now into lots starting at 500. Then the non buy now cars are lotted into the inside auction spaces.
Craig Sherrif - Permissions in MaRS for C&I
Currently in C&I we require permissions in MARS that the other branchs don't, e.g. approve all, access to other branches, releasing goods. With the current process it requires a lot of time to get access to these, a manager has to contact IT in auckland get it approved and even then it can take 1-3 days to gain the access or it's just denied completly with no real understanding of why it's required. This is extremely inefficient & frustrating - we should have the ability to gain access to certain permissions via our manager and keep them as to save us a lot of hassle and time (time = money). C&I is a department with a lot of variety our processes differ from the car branch and as such our needs change from day to day, having and keeping access to certain permissions required for us to do our job effectively & efficiently would be advantagous.
Natalie Grainger - Website - Translation
Have a page in Chinese (possibly Hindu) on the website advertising we have Chinese speaking consultants and branch details.
Sarah Degerholm - Phone Bidder Registrations
When entering bidder registrations to an Auction - phone bidders could be differentiated by a manual selection, then we could then export the list before the start of the auction to ensure phone bidders are never missed - especially for the National Auctions
or the very early registrations - it would also help to ensure other branches could enter the phone bidders to National Auctions or even to all in-house Auctions - also record the person who entered the bidder to ensure the responsible branch could follow up if there were any difficulties with contacting or receiving payment from that bidder.
I went into the base mall in Hamilton where they had a pop up Paper plus so they can clear extra stocks and it had a hype and energy coming from it· Short term lease – saves money and can be negotiated depending on the location and terms that suit us or we have the power to keep looking for locations?
· The idea is to have a " Pop Up " Turners in shopping malls or main streets to show what Turners really is about
· Location can be moved around the countryside
· Finance person and sales consultants onsite to guide people through the journey and not only gain awareness but we have the possibility of selling to them then and there and delivering the car!
· Customer kiosks in store – 3-4 computers just to be used for our website
· Gimmicks – Turners pens, Beanies, cups etc. – Give these away along with a pamphlet on what is Turners?
· Could be also used to launch Cartopia?

If this idea was to take off I believe it can not only be used at just malls and city's but have the opportunity to be able to take this to a variety of events and shows – could this lead to a custom built shipping container that could be moved around the countryside, in summer we can send it to the beach!!

I still think we have some work around showing the world what Turners do and to get rid of that dated name " Turners Auctions " which makes me cringe when I hear it and then we Buy more, Sell more and Finance more
Kevin Bankers - Warranty Promotion
​To encourage more MBI sales on Buy Now vehicles (and reduce the amount of claims), our F&I consultants could make an offer of something along the lines of Turners will pay for any excesses on claims during the first 6 months of the policy. Could be something we offer on every buy now, or up to the discretion of the consultant. More MBI sales means less headaches later on.
Karla Johnston - Finance Receipting Screen - Trade Ins
I think it would be a great idea to include a trade in section in the finance screen so that when cashiers are receipting they can include this into the total. It would help as a double check on the figures and stop frustrations in the back office. I was just thinking it could go in the receipting screen so the options would be eftpos, cash, cheque, credit card, trade in?
Dion Daley - Car Photo / Video Innovation
Update the photo system to automatically receive photos we are taking from wifi enabled cameras and upload them straight to MaRs. We could use what is being called a virtual tour by uploading a narrated video (3-5 mins long) detailing all the features, Pros an Cons of a vehicle, you wouldn't do a virtual tour on anything under the value of $5,000 to $6,000 you target lease vehicles an high end cars e.g. AMG Mercedes, Porsche, HSV, FPV. This would add value to Customers who can't make it to the vehicle also to dealers calling an asking for a walk round of the vehicle (on phone viewing). This could also lead to more sales of Buy Now vehicles and more interest in bidding online.
Phillip Brenchley - iPad Kiosk Enhancement
So we can get a gauge on local marketing, I would like to see the last screen customers fill out on the IPad for Cash Now to be a "how did you hear about us" screen with mandatory fields with tick boxes for Radio, TV, Newspaper, Previous customer? And a "Other" Box they can fill in like "recommended by a friend" etc.
Amanpreet Singh - Publicity / Sponsorship
To increase customers, we can sponser some events like (Sports, musical and etc) with big banners having information about Buy nows and at the time events just play our advertisement (which shows our upcoming events like Classic auctions, $1 reserve auctions, Mid year sale, Finance deals and more Buy nows ) during the commercial breaks , so more and more people will know about our company this will increase customers for the company.
We can put a Ipad in Red square (Kiosk)so customer can fill the test drive forms on that Ipad and that information will go to server of turners and we can easily follow up with the customer. And even Customers (like mystery shoppers and other) they are not buying any car, but they can put consultant name give us feedback, they like the customer service. or Customers can put their suggestions as well on that Ipad or how they heard about Turners etc
Hayley Toung - Create a Turners Geocaching series
We should create a series of geocaches at each Turners site. It would raise brand awareness in a completely different part of the market and if we wanted to include promotions such as prizes etc we could. The Mangere Water Works has a Geocaching series of about 15 caches along the walkways around the perimeter so other businesses have done this successfully. Plus it's lots of fun!! - Geocaching is a real-world, outdoor treasure hunting game using GPS-enabled devices. Participants navigate to a specific set of GPS coordinates and then attempt to find the geocache (container) hidden at that location.
Dean Sinclair - Stock Now - Enhancements
​1- the access to the same information that is on mars via our ipads/ipods would help a lot, not only with customer service but also effeciency for operatiopns staff.
2- the use of flash/light on the ipod/ipads would be helpfull for auction staff as back yard lighting is minimal
3- when opening stock now another tab which would give access to something like trello so we can move the cars across boards straight away. this would help in effeciancy of opperations and shorten time it take for cars to get WOF/refurb
What will it take to get either the Pokemon icons on our sites, or get a 'gym' so that people are attracted to the area. I read that 9.5 million people are following Pokemon Go world wide and yet it is not available in all countries.
Carlie Walker - Buy now in progress
​Had to deal with another situation where this time i sold the car via buy now and then one of the part timers sold it to guy on the floor. I did mine much earlier so it came forst but guy on floor stood around for hours complaining. Theres still no easy way to comunicate the vehicle is in sales process and the sales process takes time. I want a tick box changing vehicle from available to sale in process and a box to enter consultants name. We all recieve so many 'this is being sold emails' that its impossible to actually know what is being sold. Yes im annoying and keep suggesting same thing but its a big issue for auckland branch for all staff in relation to our email inbox, customer satisfaction and buy now sales.
Micah Bremner - Condition report
Add section on condition report to check for:
Car Jack
Tool kit
We have had to replace a couple of jack and tool kits after sale of high price vehicles.
Not great customer experience at buynow level when these are missing when they need them most.
Micah Bremner - BuyNow Standards
In our branch (PN) we have set the following "Guidlines" for Turners Fleet Stock (Dealer cashnow and cashnow) as well as Turners imports.
We can have all the training in the world on how to sell a vehicle but if the product does not stack up you are on the back foot from the beginning:​
Minimum requirement:
In general a clean condition report.
- minor things like CD player not working or remote/central locking not working is ok but vehicle must have all doors lockable (secured).
New WOF by us or has been done within the last month of receiving vehicle.
- This ensures the vehicle doesnt have basic issues like bald tyres, and is safe to immediately drive away at point of sale.
Up to date service
$40 fuel or at least 1/4 of a tank (ready for test drives - may need more fuel when sold)
battery not flat (doesnt require jumping for test drive)
Groomed - most are external/outsourced grooms as we do not currently have internal groomers
- The vehicle cannot have dog hair or be generally dirty to be a buynow vehicle
No major panel damage (unless a 4wd) and any damage is listed in comments and photographed
Band expander installed (if required for import or cashnow vehicle)
Panel and paint work completed where required (some just get bumper painted and stone chips on bonnet touched up)
Hubcaps purchased/attached if any are missing
Extras/well presented
Stone chips on bonnet touched up
Seat / upholstry repairs
Cambelts replaced
If the above is completed for vehicle approved/prepared for buynow it generally has the following PROS and CONS:
PROS
less chance of customer having bargain power - reasons to knock down buynow price
Increased profit per unit (subject to the vehicle being purchased with suitable reconditioning spend accounted for and at a retail price that will sell quickly/attract buyers)
Less items to complete at time of delivery (likely negotiated by customer)
greater chance of finance and warranty sales
Higher customer satisfaction and referal
High quality product delivered
Any spend over $1k on the vehicle needs to be justified on vehicle listing purchase price, spend and intended buynow price (AND APPROVED)
CONS
If vehicle is not sold at initial buynow price this needs to be reviewed and lowered to meet market as required (regardless of new cost)
Spend needs to be minimal with getting maximum benefit.
Vehicle may cost a lot more than can be made out of the vehicle when aged/not sold therefore often cleared at a loss after fees. (generally new buynow stock sales and profit makes up for these losses).
This is a summary of what we do for the vast mjority of our buynow stock and would be of benefit if we had the above as a company policy for a vehicle to become approved for "Buynow".
Taking display photos in front of office windows for buy now sales. I took a picture of my personal vehicle out front of the offices in hamilton and noticed it looked really good and would draw attention for the photos of our retail vehicles to make them stand out. the only editing i have done to this photo is add a fade around the frame and blanked out the plate number for personal reasons.
Murray Lee - Private vendors say goodbye to their car publicly and promote us!
Automatically generate and give our private consignment customers a templated message via facebook to share onto their facebook wall about that car's impending sale, in whichever channel it is being sold in.
This is mutually beneficial - they increase the audience for their car, hopefully fetching a higher price for it, and it promotes awareness for us: additional website users which will almost certainly view other cars too, website signups and facebook likes.
This sidesteps the usual problem with Facebook: People are loathe to share business advertising in a social site, but if it's so that their friend can sell their car, then they are more likely to share away.
With around 300 private consignment sales per month, and estimated modest friends lists of around 120 people each, even if only 20% of people shared our message to their wall, this will have a reach of over 7,000 people a month, with secondary shares only adding to this number.This was inspired by ideas in "Platform Revolution", a book which looks at Marketplace-like e-companies (Airbnb, Amazon, Paypal etc) and talks about "viral growth" being caused when people are seen to be using your tools, rather than just talking about them.
For example, every time someone using "kickstarter" talks about their project online, they promote their project, but also the platform itself!
Murray Lee - Cartopia Guerilla Advertising
Southern Cross Travel Insurance had some success with branded people engaging patrons outside travel expos, showing insurance quotes to people and signing them up when their brain is engaged in this way.
We could do the same thing for Cartopia - branded people and ipads piling out of the Cartopia Car in Car selling areas (Greenlane for instance), shoiwng our stock to people who are currently looking for cars / heading into or out of dealerships.
Would be great for awareness with people currently looking for a car, and you might even get a sale or two on the spot!
When customers print off a vehicle listing through the turners website a registration or Goods ID is not shown.
A to do list app that can be shared with other staff members while you or they are offsite. You can add notes, comments or actions which speeds up data entry etc. Comments can be copied and pasted into Mars.
I currently us this app to assist with offsite DVA and Trucks and machinery. We share with office and Trucks and Machinery Consultant. I works with android and apple and can link with your work or private email and operates through wifi or mobile data.
The standard app is free through the app stores.
Sam Brown - Slack messaging App
Messaging and to do lists via an app so tasks and messages can be communicated between staff via smart device would greatly improve effeciencies - recommeding App called "Slack" it has an API so could be integrated with MaRS
March-May 2016 1st place winner was
March-May 2016 2nd place winner was
Rahul Nair - Christchurch Cars
Other March-May 2016 entries as below
Scott Greenhalgh - Christchurch Cars
Rachel Chappell - Christchurch Cars
Craig Sherriff - Christchurch General Goods
Aaron Saunders - Support Office
Matthew Swailes - Christchurch DVA
Nusrat Nasim – National Contact Center
Full entries - March-May
Put small barcodes on car key tags. When we receive a vehicle, as well as putting a barcode on the car, put a smaller version on a key tag and attach to key. We could then introduce scanning the key tag along with customers driver's license at time of test drive as well as collecting CRM data, we could at this time indicate if we want to temporarily withdraw from Buy Now.
Rahul Nair - Christchurch Cars
1) Add a new section to Turners website for discounts, Christchurch drop prices on cars every week.
2) Introduce a customer referral scheme giving customers benefits for referred customers.
Remove or disconnect toll road devices from Jap Import vehicles, as they disturb customers and inhibit sale, the majority easy to remove via 2 wires under the dash (pictures included).
1) Add additional info to channel section in Cash Now market report, show our purchase price as well as our sale price, allow comparison with other branches and evident trends.
2) Add a Car Key PASS/FAIL section to inspection report, to save confused over a central locking fault or flat battery.
Scott Greenhalgh - Christchurch Cars
Introduce preferential deals for staff across all business centers for Life Insurance, Motor Vehicle Insurance, Mechanical Breakdown Insurance, House and Contents Insurance, Car, Boat, Holiday Finance and Buy and Sell Motor Vehicles with some advantage over the general public. There are, I'm sure other things that could be applicable.
1) Have 4WD, AWD, FWD, RWD options for the mechanics to select from on vehicle condition guide. Currently this would in my opinion be the most common customer question. At the moment we have to find the vehicle and drive up to mechanics for them to answer. This question would get asked several times a day. Call center as well.
2) Develop an electronic Buy Now form with work flow, it could automatically withdraw from Buy Now and streamline process. You currently have to open as PDF and then print, accessing 3 different screens just to print. We all write on paper and then fill out paper buy now form after hanging up with customer. (maybe somewhat negated now we have Buy Now on website).
Semi-randomly pick a team member (non-management) at a branch/es who can choose another branch to work at for a couple of days, could improve inter-branch comradery and problem/solution sharing at different levels.
Rachel Chappell - Christchurch Cars
TXT alert customers to remind them of upcoming valuation appointments to reduce no-shows.
MaRS enhancement requests -
When you select credit card for payment method - an invoice and charge is automatically created or even the ability to create this charge in the finance screen instead of having to open the vehicle add the charge etc. its so long winded & sometimes only for a few dollars
When you release a registered vehicle there is a link to NZTA so you can see before approving release that the change of ownership is complete.
The booking date to show in the vehicle details/search screen, this would help for lots of things like storage charges for repo vehicles etc.
Marketing Promo - at every Branch, for a period of time, each Buyer goes into a draw to win $1,000 and we promote it
Introduce a customer notification database that staff could enter an alert for a customer, that could email or TXT. For when the customer is in front of us, as they may not create a saved search on our website.
Craig Sherriff - Christchurch General Goods
1) Introduce Clock in/out Machines for Christchurch branch. On a daily basis we struggle with staff turning up on time, leaving at the correct time and having the correct amount of time for lunch breaks. I believe a number of staff are taking an extra 5-10mins a day on breaks, multiply that many times a day of wages. It could add up to several thousand a year of lost productivity.
2) Introduce an incentive/compensation for staff that have to work out of town away from family (esp. if for extended periods - from days to weeks)
Highlight cars that have been in stock for a while. Also for cars not moved for a while to test and record battery health (we can now do this via stock movement records).
Give away a Turners Calendar with retail car purchases (suggested by at least 2 customers)
Aaron Saunders - Support Office
Setup a sponsorship/donation pool, get suggestions from staff on allocation of 3 donations per quarter (could be car for a year / fuel for a year / cash)
Matthew Swailes - Christchurch DVA
Issue 3G iPads to inspectors with an App that can scan number plates and retrieve NZTA info, esp. Reg and RUC expiry and Engine Size.
1) Restoring Trim - All branches already have a heat gun to remove decals, these can also be used to renew faded unpainted plastic trims. Take heat gun up to the hottest temperature an hold it 15-20cm away from the trim segment an slowly move the heat gun in a line up an down or side to side, the process takes about 45 minutes to 1 hour to complete once done rub Pacers Restore it over the trim pieces and the results should be amazing. (Photos supplied - difference does look amazing)
2) Merchandising - sell our own brand of Car Grooming products.
Nusrat Nasim – National Contact Center
Post multi-lingual Adverts at all the international airports in NZ so that when students, visitors, immigrants come to NZ and look for the cars information, they can see us at the first place.
Add a Consultant Photo with Bio for F&I consultant for each Branch along with contact details, this would look more professional and personal.
Provide sponsorship for staff members and close family to participate in Steps for Life Programme ($96 per person / 12 week Programme) and publicise internally.
January-February 2016 1st place winner was
January-February 2016 2nd place winner was
Other January-February 2016 entries as below
Frances Bricknell – Auckland Cars
Neil Rollinson – Christchurch Cars
Leanne Ranson – Palmerston North
Josh Krissansen – Auckland Cars
Aaron Haddock – Christchurch Cars
Matthew Swailes – Christchurch Cars
Ashwindra Kumar – Auckland Cars
Place a sticker on all suitable Trucks & machinery we sell, e.g. a window in a grader but not on a broken tractor mower. The sticker should be a quality possibly transparent rectangle of approx. 100-150mm long x 20-30mm high and should say:
Turners Trucks & Machinery
0800 GET TRUCKS
If we are the largest seller of trucks and Machinery in the country and we sell a few hundred assets a year it would not take long for these to be appearing everywhere. Good bang for buck I think, similar to the ones you see on car back windows from car dealers.
Well done Elton, we have started to trial your idea, and stickers are on the way
Auckland – 250 stickers
Hamilton – 150
Christchurch – 100
Have an iPhone Valuations App simply linked to our market report… nothing else, plain and simple. From the App choose the car specifications and get a price range on your phone whilst on the go.
Dion Daley - Whangarei
Introduce automated pricing system to make valuing cars fast, easier and more efficient thought out all branches. So you type in the rego it brings up the car an gives you three figures; Good, Average, Poor condition. Then he consultant just has to match the condition of the vehicle. – Sorry Dion, while your entries was very similar to Justin's, he got his entry in first.
Carlie Walker – Auckland Cars
Introduce a 'buy now in process' tick box and the consultant's name. Then we all wouldn't need to receive multiple emails saying 'don't sell this car, I have a customer whose purchasing it at the moment'. It would also prevent the situation where I fill out the buy now and have to give to finance to call them while another sales consultant processes the buy now for the same vehicle for a dealer, i.e. finance check not needed do processed first. I had this happen twice in one day and it really annoys customers.
Suggest this does not put the vehicle on hold, it will just provide more information and reduce double sales.
Frances Bricknell – Auckland Cars
Implement a Project 1500 App that the Consultants can use instead of their interview sheet. The consultant would start their interview by entering the customers details onto the iPad, which would setup an account in MaRS. They then conduct their interview entering all the data into the IPad. It could print a test drive form for customer to sign , or allow to sign on the screen, it could also scan their Driver's License and perform a driver check. Once the customer has test driven, capture customers comments or feedback on these cars (this could also help us track keys to cars)
This would provide many benefits and efficiencies
If the customer revisits or sees another consultant or F&I person, all this information would be available.
A Buy Now sheet can be printed for the vehicle the customer wishes to purchase from the App that has the customers details on it.
If the customer has not purchased that day, they could load follow up reminders.
If the customer did purchase that day they can have this loaded and after sale follow up loaded.
They could print a Cash Now referral or it could be emailed or alerted into mars to a cash now consultant, this could encourage the correct use of the customer account.
Would allow more comprehensive reporting and understanding of conversion rates etc for P1500
Did they buy
If they brought a vehicle 1 months post purchase follow up, 1 year, 3 year or whatever the lifecycle generally is
Creation of a CRM database for the Sales Team
P1500 Customer exclusive sales/updates/promotions etc
Number of test drives completed
Number of customers interviewed
1) Marketing develop a brochure for valuations, providing information about how selling your car works with helpful tips and Q&A's. We get a lot of people asking us questions at reception and I thought it might be good if there was something we could give them so they've got a written copy of the information.
2) Provide valuation appointment TXT reminders. I know for some places when I have an appointment I will get a text reminder and the option to respond Y to confirm, or to call to reschedule. I've noticed that particularly on a Sunday we get a lot of no shows and I was thinking that maybe a text reminder system could help reduce this.
Neil Rollinson – Christchurch Cars
When we auction a car the photos come up on the screen, when its getting close, selling or last chance bid. These notifications are displayed on the screen across the photos of the car and obscuring it. Suggest the notifications are slimmer and at the top or bottom of screen so the customer can see the car photos.
Leanne Ranson – Palmerston North
Improving the accrual process and the entering of charges in MARS.
A good is entered into MARS and prior to sale, if it requires work/tow which creates a charge against the good. This creates an un-invoiced charge at the end of month (revenue) if the vehicle is not sold, which in turn requires a cost accrual, if the invoice has not been received.
Proposed Enhancement:
1) When the estimated charge is entered into MARS by the consultant, MARS automatically generates the Purchase Order (two copies) – one for the supplier to initiate the job and one for Admin staff for attaching to the invoice once it has been received and processed for payment. For the fact that the charge has to be entered into MARS in order to generate the Purchase Order, this will ensure a charge is loaded, so there will be no room for error in relation to charges being missed. There should be a standard rule with Suppliers (as in PN's case), "No Purchase Order equals no authority for work to be carried out and no payment". The purchase order number is also unique to that particular cost/charge as opposed being generic or the registration number of the vehicle, which can be quoted by anyone.
2) At the same time the charge is entered and saved , this populates another box (a tick box) which highlights the entry as an item for cost accrual, which in turn can be reported on via a Cost Accrual report. This report can be called up and exported in the same manner as the Non-Invoiced Charges report. (There is no change to the charge generating the revenue accrual information from the Non Invoices charges report for any revenue not realised, i.e. good not sold). This automated process for cost accruals will eliminate the manual accruals carried out from the Purchase Orders (current manual practice in PN branch and I assume all other branches).
3) When the invoice is received, the Purchase order is attached to the invoice, and the charge amount either updated or confirmed against what was originally entered into MARS. At the same time, the "cost accrual Box" is unticked (which then removes any cost accrual from the report).
Josh Krissansen – Auckland Cars
Introduce a section in MARS under each vehicle called "Notes", where consultant can write notes about the vehicle for in-house e.g. "not available for BuyNow". I often find we are asking consultants for things such as this when they have a already been asked several times. I imagine would be quite easy to implement and save everyone time.
Aaron Haddock – Christchurch Cars
Mechanical Report/ Evaluation improvement
Introduce an additional field in our Condition Guide app for our inspectors to take four or five photos of a vehicle from their iPad. The photos will save against the vehicle for our InfoNow customers to see, or will be easily accessible for consultants to attach in an email to the vendor with their evaluation.
This will also assist Pierre in pricing vehicles more accurately for vehicles which do not receive an EOT – as they say, a picture is worth 1000 words! In addition, this will assist some of our larger vendors, who often will not view the vehicles personally before they are delivered to a Turners branch, in getting a 'clearer view' of the condition of a vehicle than our mechanical reports can provide before the 'official' photos are taken.
Matthew Swailes – Christchurch Cars
Use EOT iPads to take photos and upload via WiFi
At the moment we have to carry a PDA and a camera and then come back to a computer to upload which at times can be a long process when cameras or PDAs have issues.
With the IPads we can upload wirelessly (I know we can now but only on certain PDAs), but why not make it so we can take the inspection photos on the iPad and upload it straight from the iPad removing the need to use the computer to upload at all.
This would make Offsite inspections that are out of town much easier as now if we get back to work after closing time we have to wait until the next morning to upload making the process longer . if we could do this plan we could just upload it straight from the airport or wherever had WIFI.
If this was not an Option then EOT staff could have an iPhone to use off site meaning less bulky items to carry etc. and this could also double as a work phone , leaving the iPad for in branch use.
Have an abbreviated MaRS Goods form specifically for the use in the 'Red square' or other areas that customers are present? The customers are able to see the screen so it would be good to have it appear without the more sensitive information (e.g. Vendor details, sale details, some comments etc).
Ashwindra Kumar – Auckland Cars
A few ideas:
1) Run programmes to educate people about the system flow so that are not aware of basic production and values and importance of the company and there role play
2) More advertisements e.g. posters, burners, billboard media promos etc.
3) More flexible customer related assistant and in busy period customer adviser so that customers are not confused while entering through reception
4) Upgrade mobile apps to allow access to MaRS so that it's easy to search for cars on iPod or iPad because it will save a lot time and won't require a desktop
5) Deals on purchased vehicles like full tank of fuel or free service check or a bit longer warranty term.
6) Best teams should get incentive or bonus quarterly or monthly either on target or performance basis.
7) Add extra auction or maybe get commercial auction to attract more people.
8) Someone should always monitor our competitor online or either physically watching them
December 2015 winner was
Other December 2015 entries as below
Pierre Jubault - National Accounts
Jenna Gibson - Christchurch Cars
Blair Butler - Christchurch Cars
Tania Curtin – Christchurch Cars
Micah Bremner – Palmerston North
Matthew Swailes – Christchurch Cars
Amanda Heuvel – Contact Centre
Ashwindra Kumar - Auckland Cars
Pierre Jubault - National Accounts
Daymond and I were thinking about a "Notation system" from one to ten, in order to evaluate internally a vehicle. Each vehicle is seen by many departments, and each employee got his own thought regarding this vehicle. The idea is to note each vehicle in order to obtain several notes and create an average. We think that system will increase our accuracy regarding our global valuation and will help the sales team as well.
Turners is represented by so many specialists, with a high level of expertise in several areas. This system will increase our competitive advantage thanks to a better reactivity for our customers and the vendors.
The process could be really easy and simple, we were thinking about a simple note on Mars where everyone could add his own feedback. Then, the software could calculate automatically the average and inform the team about the score. Example:
I have noticed many dealerships around New Zealand do a review of there cars about 10 to 15 max a walk around the vehicle a started up features, an in some cases the more performance focused cars e.g AMG Mercedes , Ford Falcon XR8s ,FPV, HSV. All get a video drive like a car review I feel this would help buyers from all over New Zealand buy from different branches nation wide
Jenna Gibson - Christchurch Cars
Offer a public service for grooming, like the car wash café etc.
Blair Butler - Christchurch Cars
I think we should have a flat battery and low fuel indicator (warning) in Mars. Either alert could be actioned by anyone in the prep process, the vehicle shouldn't be able to be booked to auction or have a Buy now added until the alert is taken off. The person who takes the alert off will be recorded and should be able to confirm either issue has been fixed. This will eliminate the ever lasting problem of flat battery's and low fuel in vehicles.
Create an ipad app for all visiting contractors on site to read and accept our Health & Safety terms and conditions whilst on site, this could/should be rolled out as a national initiative.
Not only does this protect the company from potential fines/penalties but we are proactively ensuring everyone's Health & Safety by acknowledging our legal requirements, making third parties aware of potential hazards and putting in place measures that keep everyone safe all whilst minimising any exposure we have to our well known NZ brand.
This app could also be developed to extend to those customers whom come on site and test drive vehicles. Rather than completing the manual registration forms they can complete a series of questions on the app giving Turners their name, address license (still sighted) as well as contact details then have the customers agree to our Health & Safety Terms and conditions whilst on site such as no exceeding speed limit whilst in the warehouse (5km) and not exceeding speed limit whilst on the road (40kms).
Many businesses are stepping up their Health & Safety compliance with pending changes in early 2016, it would be good for Turners to look at implementing something in advance which shows we are serious about customers Health & Safety whilst visiting our various locations.
A new sales channel called: Rent-to-own. This sales means enables Turners to enhance our current services of Finance and Trade Ins by titling it 'rent' which holds ideals of 'not forever and unbinding' while empowering out customer with choice of 'to own'.
The customer pays a flat 'rental' fee over their selection of 1,2,3,4,5 years and the rate varies dependant of their choice. If they don't like the vehicle, they simply return it. If they do like it, after a time, it's theirs. We jump on the back of companies like EZ rentals and Mr. Rentals and use what they've established for our product.
http://www.mrrental.co.nz/furniture?gclid=CK_kyrfNnckCFZcjvQodqTIH5w&gclsrc=aw.ds
https://www.rentacenter.com/furniture
http://ezrentals.co.nz/?gclid=CMm_id7NnckCFYKYvAodUPkOQQ
Buy the car, finance the car or rent is and fall in love.
My idea is a feature for the website whereby a customer can select multiple cars or just similar products in general (i.e trucks, bikes, phones). Once the customer selected a few products they are interested in they could open up this page. This then would compare all the products side by side in a table format (i.e fuel economy, safety rating, price, millage, photos)
This would allow for the customer to have an all round more comprehensive comparison of the products and allow for their decision making faster and easier.
The feature would benefit turners as it would make the buying processes faster and more efficient and therefore cheaper for us. Also with the newly introduced QR coded on all window cards that would make it easy to select the cars you want to compare.
Here is an example / Draft of the idea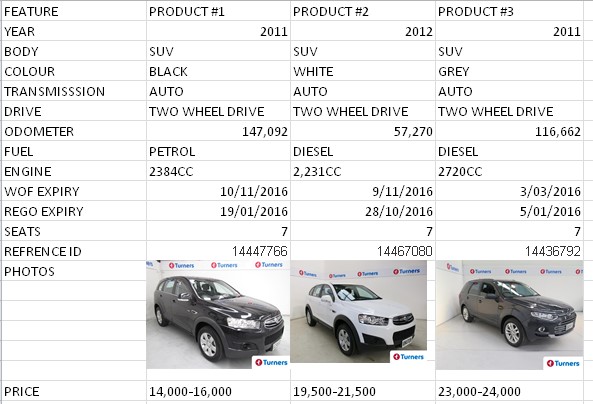 Installing car charging points for electric cars in designated parking spaces and promote on Google etc. If we do it, then we will be able to position ourselves as innovation company from marketing point of view. We will also then appear on all the charging points maps in Auckland.
I have attached a Pre Purchase inspection sheet that we have implemented at the Auckland branch as a quick pre purchase inspection for our consultants to avoid any hidden issues and associated costs after purchase from the public.
We will do our normal valuation of the customers car, we then advise them of the approx. price we are prepared to pay based on a mechanical check. The consultant will have one of our inspectors check the vehicle over and add comments to the sheet along with an approximate cost to remedy. We then use this information to decide if we will continue to purchase and negotiate further on the price.
Using this sheet has already saved us 10's of thousands of dollars in issues that only a mechanic would pick up and therefore saved a lot of time and money in claims and unsaleable cars. I Have asked that this be added to the Cash Now app to make it an actual part of the Cash Now process and automate and give a more polished look for us and the customers.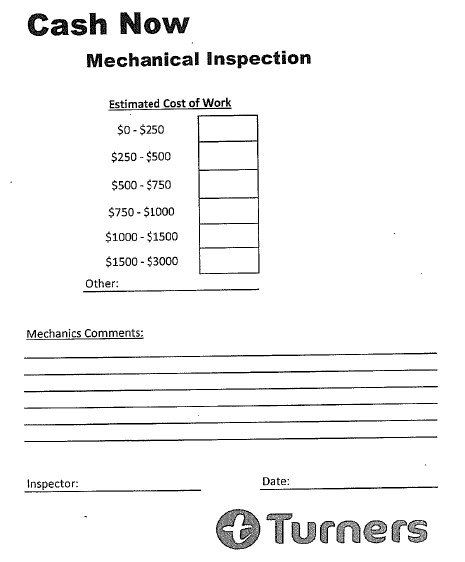 I know vendors with access to InfoNow can access their invoices on line, is there anyway something like this could be possible for buyers as well, somewhere for them to go on their online account to print off copies of their buyer invoices?
We get countless emails and phone calls every week requesting copies of purchase invoices, and the buyer usually has no information to help us look up the invoice other than 'I bought a Ford Fiesta two weeks ago for about $1400'
Which then leads to an admin person having to trawl through their purchases to find the correct invoice, which can be frustrating and time-wasting. Would benefit our buyers and save time for our admin staff.
Tania Curtin – Christchurch Cars
Just a small change in MARS that I think would be a good benefit for Staff and Buyers alike.
It would be great if we could change the state of a vehicle in MARS to ON HOLD as we quite often hold a vehicle for a buyer for a couple of reasons 1) Subject to Mechanical Inspection 2) The Buyer wants to buy the vehicle but the vehicle has not arrived to branch yet.
This mostly happens with Fleet Stock as we produce a wholesale stock list and send it out to our Dealers and they often ask us to hold a vehicle for them and a lot of the time the vehicle is still in transit.
Example:
We have a Nissan Bluebird #22917 which has come from Japan, a dealer spotted it in our stock list and decided this is exactly what he is looking for so contacted me and asked me to hold it for him and he will buy it after he has inspected, this vehicle has been going through the process of compliance, panel & groom, it has been entered into mars and put as off site at the Groomers, it is due to arrive into us at any time but my concern is that if I don't see it first it could get sold to some one else because it is a popular model.
As we have so many Cars coming and going and a lot of staff dealing with our customers it is easy for this to happen. Although we can take it of internet display and email all of the Buy Now staff there is still potential for this to go wrong and has gone wrong on a few occasions, a simple On Hold in the State field would eliminate this happening. This is a very basic idea but I think it would be very effective.
Micah Bremner – Palmerston North
It's been bugging me for a little while how poorly we do retail so I thought I would share one idea/issue/improvement I think will make a massive difference to our success in selling Buy Now cars.
"RETAIL IS DETAIL"
Intro: I have almost 10 years of big box retailer experience. One of the biggest things I learnt in retail is that the most important salesperson you can employ in your business is the "silent salesperson".
Who/what is a silent salesperson?
Simply stated; the silent salesperson supplies relevant feature and specification information about the product the customer is looking at. This information needs to be simple, easy to read and must supply the most important "sales information" in an easy to read format. When I spoke to Jonathan Sergal on a recent branch visit about this matter he said we are moving towards better engagement with customers (red squares etc). One statement I will make is you will never engage with all customers. Most customers will have already done their own research and only want help when they have seen the product they are looking for or simply want a test drive.
I have worked with/trained some of the best salepeople in Harvey Norman. We sold new product that was the same in every store and at the same price. At Turners we don't have the best trained salespeople in the business and our products/vehicles vary between branch and change faster than most can keep up with so the need for better silent salespeople/merchandising is much greater.
Example of a "good" sales ticket:
8KG Samsung "BubbleWash" Frontload Washing machine
Bubblewash technology – for better wash performance
1400RPM spin speed (for dryer clothes)
10 year motor warranty
3 year manufacturers warranty (extended warranty to 7 years for $199)
$1495
Delivery and install for only $49
With great merchandising/silent salespeople your actual sales staff will find it easier to sell the product, introduce add-ons and includes aftersales/care for the customer.
Turners Windowcards:
Turners current windowcards are poor.
First line – make and model (based on Right Car system) e.g. 2009 Holden Captiva 7
Second line – PRICE e.g. $16995 (this is the most highlighted feature)
Improvements: The price needs to be a lot smaller and towards the bottom. We also need to state what's included in that price i.e. (on-road costs), warranty included or cost of warranty.
There is a lot that can be done to make these better!!!
This is an example of a vehicle I have in stock.
The above price includes a 12 month warranty and extending to 36 months is only $595 extra (but this is not stated on the standard window card format) – I have added in notes that the warranty is included.
Big Challenge/opportunity for Turners – Understand better merchandising and sell more Buy Now cars.
This is the next big challenge for Turners. The merchandising/silent salespeople in the business do very little to assist with selling the product, highlighting the best features of each vehicle and breaking down any customer pre-conceptions they may have had of Turners (now vs in the past).
We also need to find a way to better highlight the condition report for all vehicles – there must be a way to make this easier to access online and "silently" bring the customers attention to this inside the rear drivers side window. And easier viewable on trademe and Turners website. Who else openly supplies this information to customers when purchasing a vehicle? Nobody!
Pre-conceptions/questions from Turners customers:
I thought you were just an auction house – What cars can I buy now?
Does this price include all your fees? Or, is there any fees on top of this cost? Or what other costs do I need to pay?
Do we have to pay for rego as well?
Does that include a warranty? Or, Do I have any warranty with this vehicle? (normally a buynow)
When does this vehicle go to auction? (normally asked of a buynow car – and it may never be sold at auction)
Where are all your 4WD's? (we don't highlight this feature on sales cards so is hard to tell when walking around what is 4wd)
Have you got any utes?
We are looking for a 7 seater?
Where are your SUV's?
Issue with Current Sales information / Windowcards
Most information is too small to read without leaning over the car
From a distance you can only see price
Doesn't highlight features of a vehicle (smallest print)
Doesn't answer customers most frequent questions (as per above)
Cant easily find how many k's travelled
What our Silent Salesperson (Windowcards) needs to say/highlight:
Year, Make, model
Features
Ks – need to be readable from a distance
Price – and what this includes
IMPORTANT FEATURES:
NZ new / import
4WD
7 Seat
Diesel Turbo
Low K's
V8
Manual
Ex-Lease (full service history)
Full Service history
Idea: We should use 1-3 stickers on Buy Now vehicle to highlight the features above.
We did this in PN for a while before going to the new window cars and it worked really well!
(this may have cost between $10-$30 extra per Buy Now vehicle)
State what you get with a buynow car:
"ON-ROAD COSTS INCLUDED"
"DRIVE-AWAY PRICE"
"No Extra/Hidden costs" or "Includes all fees"
"Condition report in window – we check each vehicle"
WARRANTY:
Included: 12 month (with 24/7 roadside assistance)
Currently we have no indication on the window cards whether it includes a warranty or not
I include 12 month warranty in a number of vehicles but this is not highlighted on the window card or on trade-me. A customer needs to read the content of the sales information (on trademe) which many don't or the notes on the windowcard which are tiny!
Warranty available/extend for: 12-36 months (maybe include pricing) Upgrade to 36 months for $595
This is especially good when a 12 month warranty on a Turbo diesel is $875 and 2 more years is only $550 extra.
Recommendation:
Redesign the window cards based on above (brainstorm sessions/research) asap.
Look at what information is provided on trademe – use the second description line to add selling features or state that it includes warranty (as many national vendors include 12 month warranty in buynow)
Look at additional stickers/ merchandising to highlight important features
Have an information board in every red square that states what a buynow vehicle is:
Buynow – windowcard price is "Drive Away Price" all on-road costs included.
We need to be using silent salespeople to educate customers how Turners have changed.
Conclusion:
With the move to selling more buynow vehicles this should provide greater benefit to both customers and staff when looking at each vehicle and discussing buying from Turners.
The great thing is most of the above doesn't actually cost any extra! We just need to do better educating about Turners and provide better merchandising of our cars. I look forward to myself and the company selling more buynow cars, more warranties and getting more finance with the above improvements!
Developing the Chinese market and WECHAT App
Everyone in business knows the Chinese market is growing quickly, but I notice that Turners looks like not very interesting on this topic… I have been working for Turners more than 7 years, during this 7 years, I can not see too much we have been working on developing the Chinese market seriously. Such as we do not provide multi language services, we do not create/ attend some big Chinese event/ festival, we do not advertising on the Chinese media channels, etc. But in fact, we have lots of Chinese customers are supporting our business. I have been thinking if we could move forward on this point, what our business could benefit from the Chinese market?
Now, I would like to introduce the most popular and the most effective app—WeChat.
In China, Social Networks are incredibly powerful – much more than anywhere else in the world. That being said, the most powerful social media platform in China is WeChat, boasting a near 100% penetration rate among smartphone users in China. According to statistics from Hylink Digital Marketing Resarch: WeChat is the undisputed leader with 100% of the users who care about the platform, and 67% caring a lot about what is spread on the WeChat platform – a testament to WeChat's ability to be highly targeted. WeChat had 62 million users by the end of 2011 (the year of its creation) to 450 million users by the end of 2013, a meteoric rise for a social platform which hasn't had a long lifetime. WeChat has become a default social networking tool for Chinese users.
First of all, what is WeChat? Mabey some know or some really do not know. WeChat is an app/ software both working on computer and smartphone, it is more like the Chinese "Facebook" and "Twitter", but it is much more powerful than those two. It specifically requires consumers to follow accounts that they are interested in. This means that consumers proactively ask you for information, and more importantly, consumers can choose the exact information they want. This allows brands to avoid alienating consumers as a result of sending irrelevant information.
WeChat also helps developing the business, the opportunities for brands to use WeChat as an innovative channel for spreading the message about their products and services are clearly growing. On this point, we can build our own O2O platform by using WeChat, at that time, all cars, general goods, trucks even finance can be promoted and purchased on WeChat. A smartphone plus WeChat, go shopping! Easy-as!
In addition, WeChat as a customer service platform can also help reduce a company's operating costs. WeChat users can build up a link with others and also subscribe to information they need. Brands can promote their products and conduct point-to-point marketing based on users' requirements. Brands can also use WeChat to conduct market research, customer management, sales payment processing, customer support etc. Now WeChat also supports online payment function. This function makes it easier to manage transactions and now enables companies to turn their WeChat marketing investment directly into a sales channel. WeChat also integrates shopping loyalty/members' cards. These provide immediate discounts or long-term perks from store chains to users with your WeChat account.
Moreover, some of big competitors for example TOYOTA, NISSAN, 2CheapCars, Autoselect, etc. they are all working on developing the Chinese market by using the Chinese social media such WeChat. We must be quick, now we are working on the WeChat company account application and some of the preparation. According to the plan, our company account would be online in January 2016 which is before the Chinese lunar New Year, at that time we will organise some of online relevant events and activities to attract more customers.
Last but not least, WeChat not only would boost our business, but also it would introduce Turners to Chinese market more efficiently, and the importance is WECHAT IS FREE!
I've noticed a number of parents coming in with young children. This is especially noticeable around school holidays. Generally the kids are bored and loud. A lollipop would be a cheap way to keep then on-side and make them less of a distraction to their parents. It also would make the child more positive about their experience at Turners which would subsequently contribute to their parents having a more positive experience. Children often provide a passive influence during the selection process and a bucket of lollipops on or behind the sales reception area for younger children would help with this.
If we were to go with the idea we could go a step further and commission a custom lollipop design such as the one mocked up below. Benefits: Sales and influence.

We have always had the big banner flags in the wheel cleats under the front wheels of 6 to 8 cars on the floor. They are great to stimulate conversation with the customers as they are very loud and easy to read.
The down side
Customers need to remove them to test drive vehicles .
They have to be on the right front wheel so people don't drive off without removing ( hard to miss there)
If they do drive off the risk is they will damage the vehicle ( wing mirrors ) as they fall
They can be put on the wrong vehicle BUY NOW on Government cars etc which causes issues with customers
They are easy to trip over as you walk around the vehicle
Now they are up on the poles
Always in clear view even when the floor change is happening
Never going to damage a car or cause an issue for the customer
And are even clearer to see as they hang better
Less work for staff on the floor constantly moving them
So all the benefits and none of the down side to worry about.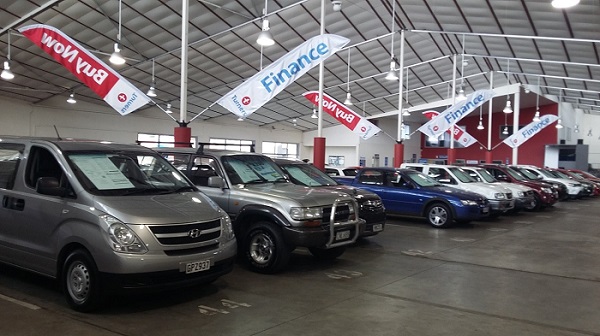 Matthew Swailes – Christchurch Cars

The biggest question we get asked is how do I buy this car now. Now that we have stock now why don't we put a function that if someone wants a buy now car we scan it and get them to fill in their details. This will send to the reception or finance consultant with a number we give the customer this number and they go and see the reception or finance consultant . while they are there we are preparing the car for them
Amanda Heuvel – Contact Centre
1) Offer Fly Buys with every new Finance Deal written, viz 10 points for every $5k loan, 5 points for MVI / MBI etc.
2) Offer Fly Buys with every Cash Now conversion.
3) Offer Fly Buy Bonus months…Easter, Mother's Day, Father's Day, Christamas etc
Turners seen to be embracing the typical Kiwi culture of a reward system
Exposure of our brand, associating it with gain on more than one level …"Where did you get your fitbit from?....NL….gosh you have heaps of FB points…yeah, I got it from Turners when I bought my car…Oh my goodness….had no idea that they are doing FB now…cool!"
This is beneficial to both the customer and the Company. The cost of customer loyalty and brand recognition is priceless. At the expense of outlay for every FB point, the reward is twentyfold…
Free advertising as it were
My example: We have our insurance through State and even though, they are not the cheapest, I love the fact that I get FB points every time our premium is deducted.
Always pitch at "We don't want you missing out, so if you sell your car now or sign the Finance Deal today….20 FB on its way to you!!"
I have 2 ideas to add value to the customers and to grow the business.
1) Solution to grow cash now stock: At the moment we are shortage of car stock. Purchasing cars from customers through cash now process could sometimes take a lot of time and effort. Considering that I was thinking if Turners is aware that there are some few good Chinese/Japanese website where Chinese students/ppl sell their vehicles before leaving nz. The reason Turners would want to purchase from them because firstly these are the genuine sellers and secondly these website have good cars at very cheap prices (please have a look at http://www.skykiwi.com/3g.html )
2) Way of adding value to vendors/customer: Vendors/dealers/online registered customers who bids online for auction or who sell their cars through auction keep calling us to know the status/progress of their car buying/selling process. So I was thinking there should be an option for online registered customers to see the progress of their car when it goes through buying/auction selling process.
E.g
Status: Congratulations your car is sold on auction.
Turners Team will contact you within 24hrs.
OR
Congratulations on winning the auction. Turners Team will contact you within 24hrs.
OR
Sorry your car is not sold on auction our Turners Team will contact you within 24hrs.

Ashwindra Kumar - Auckland Cars
We should run programmes to educate people about the system flow so that are not aware of basic production and values and importance of the company and there role play
More Advertising e.g. posters burners billboard media promos etc.
More flexible customer related assistant and in busy period customer adviser so that customers are not confused while entering through reception
Upgrade apps in mars so that its easy to search for cars on iPod or iPad because it will save a lot time and wont require a desktop
Deals on purchased vehicles like full tank of fuel or free service check or a bit longer warranty term.
Best teams should get incentive or bonus quarterly or monthly either on target or performance basis.
Should add extra auction or maybe get commercial auction to attract more people.
Someone should always monitor our competitor online or either physically watching them